Translator – Tanya Gold
This graphic novel was my introduction to Enola Holmes, Sherlock and Mycroft's younger sister. Enola's birth was a scandal and she's not planning on conforming to society's expectations of women anytime soon. She conducts herself in a fashion most unladylike by refusing to wear the appropriate dress length for her age and, horror of horrors, climbing trees.
Her mother's disappearance on the occasion of her fourteenth birthday brings Enola's brothers out of the woodwork. Visiting Ferndell Hall for the first time in ten years, they quickly determine that the most appropriate course of action is to send Enola to boarding school.
This goes against Enola's sensibilities and those of her currently absent mother, so before she embarks on the very ladylike occupation of learning how to be a "houseplant", Enola absconds to London. Smart girl, our Enola.
Sherlock and Mycroft are clearly products of their time and probably think they have Enola's best interests at heart. However, their brotherly love leaves a lot to be desired.
Leave her be, Mycroft. She is too young and her head is too small for her body. We can't expect too much of her.
Enola is able to use society's propensity to underestimate women to her advantage, relying on her wits and penchant for disguises to hide in plain sight.
Brother Sherlock may be a famous detective but Enola gives him a run for his money in these adaptations of the first three books of Nancy Springer's The Enola Holmes Mysteries. Enola takes it upon herself to solve The Case of the Missing Marquess, The Case of the Left-Handed Lady and The Case of the Bizarre Bouquets.
I enjoyed the watercolour illustrations, which felt even more appropriate when I learned that's the medium Enola's mother uses.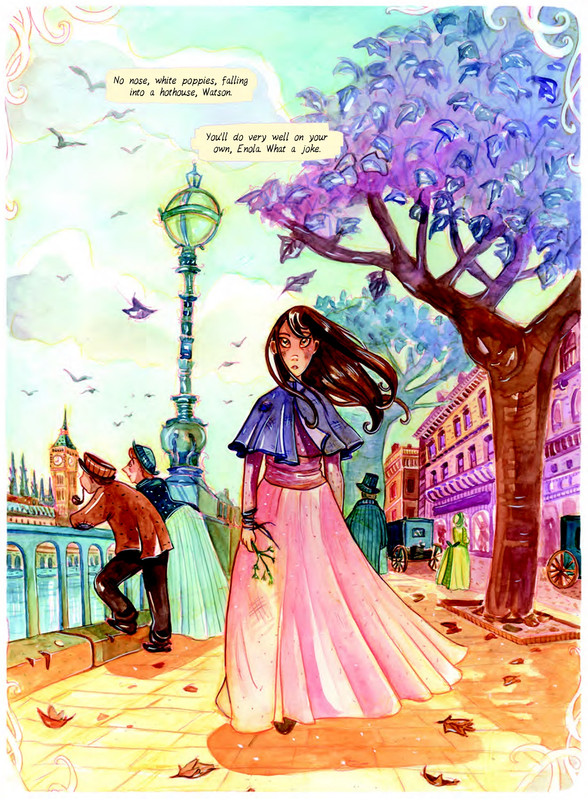 I haven't met Enola's mother yet but I love her already. She's a suffragist who's schooled her daughter in activities that will be useful, as opposed to those that will facilitate her transformation into a houseplant.
Enola's adaptability and attention to detail are aided by the tools her mother left her, primarily a book on the language of flowers and a handbound notebook full of coded messages.
Enola is "alone" spelled backwards.
Mum and her love of coded messages.
Could it be a coincidence?
I loved the clever use of flowers to convey messages and the inclusion of excerpts from Enola's secret notebook at the end of each case.
Enola's inquiring mind and indomitable spirit made me want to spend more time with her. I look forward to hanging out with Enola as she continues to subvert her allotted position in nineteenth century London in future graphic novel adaptations.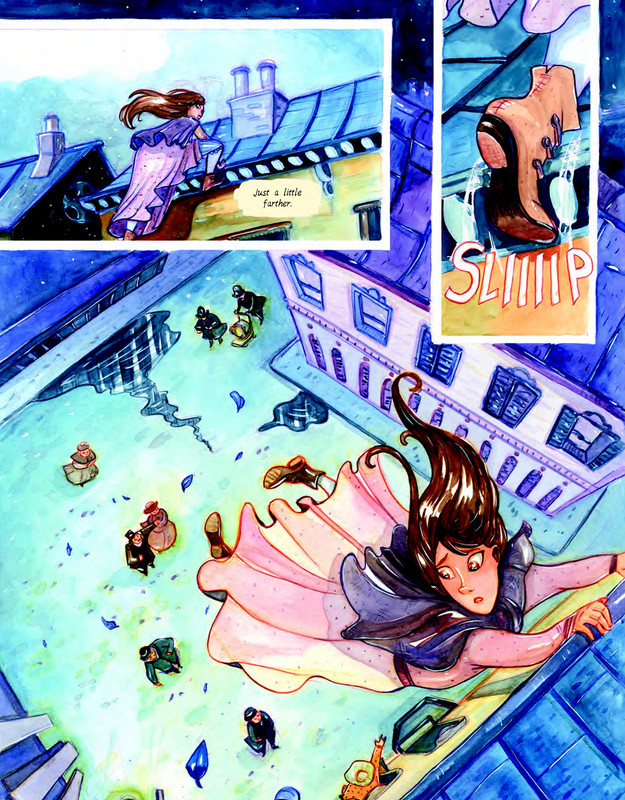 I've already ordered the first book in Nancy Springer's series from the library.
Thank you so much to NetGalley and Andrews McMeel Publishing for the opportunity to read this graphic novel.
Once Upon a Blurb
A graphic novel adaptation of the hit books that inspired the Netflix film! Sherlock Holmes' brilliant, strong-willed younger sister takes centre stage in this delightfully drawn graphic novel based on Nancy Springer's bestselling mystery series.
14-year-old Enola Holmes wakes on her birthday to discover that her mother has disappeared from the family's country manor, leaving only a collection of flowers and a coded message book. With Sherlock and Mycroft determined to ship her off to a boarding school, Enola escapes, displaying a cleverness that even impresses the elder Holmes. But nothing prepares her for what lies ahead…
Book One in the series includes three thrilling mysteries: The Case of the Missing Marquess, The Case of the Left-Handed Lady, and The Case of the Bizarre Bouquets. At the back of the book, readers can explore a portfolio of pages from Enola's secret notebook!