Illustrations – Freda Chiu
'There are those that hunt monsters to harm them and there are those that hunt monsters to help them.'
Miss Mary-Kate Martin has much better shoes than I do, red sparkly ones. She also has the strawberry-scented notebook and glitter pens I desperately need in my life and the anxiety I'd like to return for a full refund.
Mary-Kate is about to accompany her mother, Professor Martin (but we call her Prof), on an archaeological dig for the first time. Because Mary-Kate isn't that good at beginnings or endings, she'd much prefer to stay at home with Granny, but Granny's recently discovered the joys of bus trips so she's off on her own adventure.
So, it's time for a train ride (facing forward, of course) to the sleepy village of Woolington Well, which, incidentally, has a well.
While Prof is busy investigating some bones recently found in said well, Mary-Kate will be conducting her own investigation into why saucers of milk have been placed in front of every doorstep. Because Mary-Kate has an inquiring mind, she quickly becomes caught up in a century's old town mystery.
This was the strangest place she'd ever visited.
Mary-Kate likes facts, red sparkles and infomercials. She doesn't like complicated sandwiches, brown colouring-in pencils, small talk or mismatched clothing.
Her personality is complimented by new friend Lady Arabella Woolington, a bubbly, chatty local girl with an unforgettable hairstyle.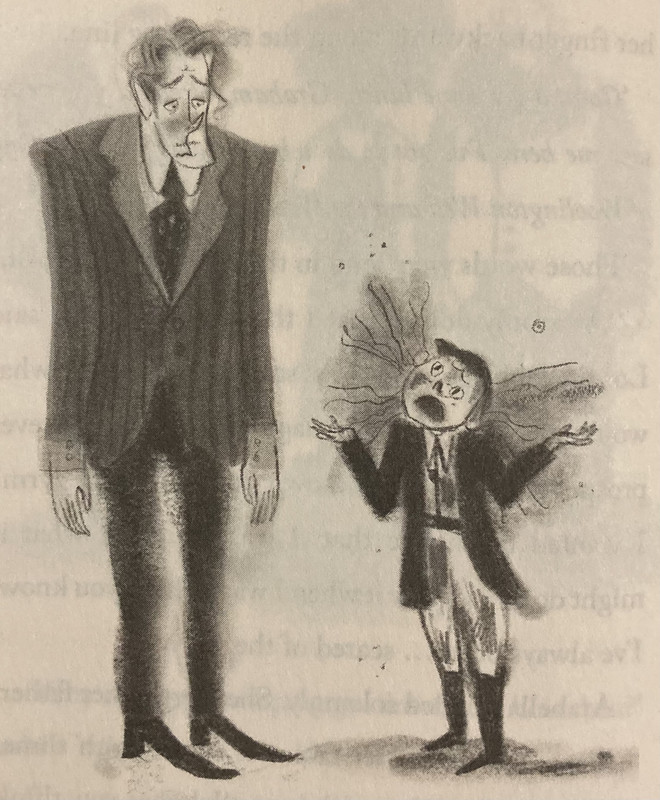 During the course of her investigation, Mary-Kate also meets a pony who just wants to get on with their meal and some townsfolk who may have the answers to Mary-Kate's questions about 'the you-know-what'.
'The legend says it likes children.'
I loved the way anxiety was portrayed in this book. Mary-Kate is almost ten and she has a counsellor, Meg, who has taught her very helpful ways to manage her anxiety, including grounding, distraction and breathing techniques.
Mary-Kate is a kind and compassionate girl. She not only notices when other people are struggling themselves but is able to suggest coping strategies to them based on what she's found helpful.
I admire Mary-Kate's determination and bravery, and love the creativity she uses in categorising her bad days with her "H scale of Horrid".
At the beginning of each chapter, you'll find a quote from P.K. Mayberry's Complete Guide to Monsters of the Northern Hemisphere. These quotes invariably provide a clue about the chapter's contents but also made me want to meet P.K. Mayberry.
My favourite Mayberry quote was:
Monster hunter Professor Lavinia Lightfoot famously once said, 'People who have seen a monster are usually a lot more interesting than people who haven't.'
Freda Chiu's illustrations are so much fun, regardless of whether they're emphasising Lady Arabella Woolington's halo of hair or capturing the disinterest of Pickles the pony.
I absolutely adore Mary-Kate. I want to learn more about Prof. I really hope Lady Arabella Woolington finds a way to insert herself into at least one of Mary-Kate's future investigations.
I know it's still early days but I'm confident I've found a new favourite series. I can't wait to go monster hunting again!
The Rule of Monsters states that people who have met one monster are statistically much more likely to meet another.
Thank you so much to Allen & Unwin for the opportunity to read this book.
Once Upon a Blurb
There are those that hunt monsters to harm them and there are those that hunt monsters to help them. Which one are you?
Dressed in sparkly red shoes and carrying her strawberry-scented notebook, Mary-Kate is accompanying her archaeologist mother to the tranquil English countryside to investigate some interesting bones found in an old well. But once they arrive, they realise that the village of Woolington is not as peaceful as it seems. Mysterious noises, earth tremors and a terrifying legend have the locals frightened. 
Could there be any truth in the myth of the beast who lives in the ancient well? And if so, why would it return? Mary-Kate might be anxious, but she is not afraid to get to the bottom of this monstrous mystery.