Illustrations – Rovina Cai
Every Heart a Doorway remains my favourite book of all time and I can't imagine a day when Wayward Children won't be my favourite series. I look forward to January every year so I can renew the search for my own door.
But … a little piece of my heart breaks every time I'm introduced to a wayward child. I can never forget that childhood trauma connects every wayward. After all, if everything in their lives was unicorns and rainbows, they wouldn't need a door.
"Some children need to escape from places that will only hurt them, or grind them away until they're nothing. And some children need to go somewhere else if they're ever going to grow into the people they were meant to be. The Doors choose carefully."
It's safe to say that I hurt for every wayward but Antsy's story broke me in a way that no other has.
That was the fourth thing she lost: the belief that if something made her unhappy or uncomfortable, she could tell an adult who loved her and they would make everything better.
I didn't run soon enough. I don't have words to explain how relieved I am that Antsy did. Not that there wasn't a cost.
Doors always comes with a cost. Maybe you age out of the world where you belong or you accidentally break a rule and it kicks you out. Antsy's experience with doors is unlike any we've been granted access to before and the cost is similarly unique.
When you consider the reason Antsy found her door in the first place, you'll realise how appropriate the cost is. People who have experienced trauma that's a similar shape to Antsy's will likely have seen this cost play out in their own lives. Maybe not as visibly as in Antsy's story but it's still recognisable on the inside.
I doubt we'll ever walk through Seanan's door and I don't think we should ever ask that of her because doors and the worlds that lie behind them are personal. However, between the dedication and the existence of cat-people, I'm pretty sure we've never been closer to it.
I would never expect anything different from Rovina Cai but I need to say that the illustrations in this book were practically perfect in every way.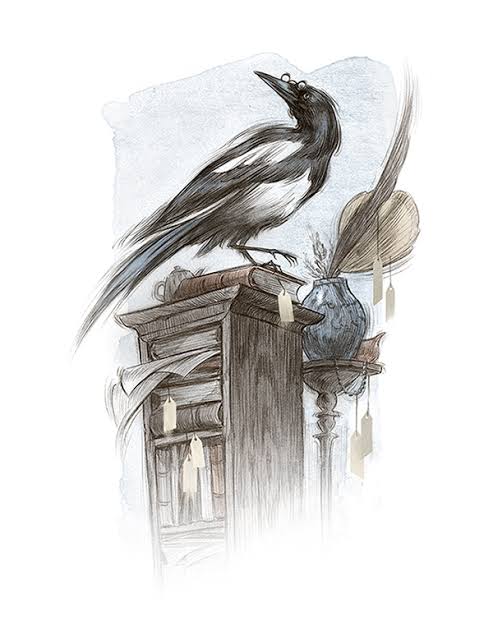 I was absolutely delighted to discover that a couple of my favourite Door-touched people had cameos in this book.
Favourite quote:
"If an adult hurt you, that's on them, not on you. Being bruised doesn't make you bad, unless you're a peach, and even a bruised peach is good for making jam."
I'm thinking of starting a petition to name every month January so I don't have to wait so long to go on my next not a quest with a wayward.
Content warnings include emotional abuse, gaslighting, grief, grooming and physical abuse.
Once Upon a Blurb
Welcome to the Shop Where the Lost Things Go.
If you ever lost a sock, you'll find it here.
If you ever wondered about favourite toy from childhood… it's probably sitting on a shelf in the back.
And the headphones that you swore that this time you'd keep safe? You guessed it…
Antoinette has lost her father. Metaphorically. He's not in the shop, and she'll never see him again. But when Antsy finds herself lost (literally, this time), she finds that however many doors open for her, leaving the Shop for good might not be as simple as it sounds.
And stepping through those doors exacts a price.
Lost in the Moment and Found tells us that childhood and innocence, once lost, can never be found.