I've spent so much time watching, reading and listening to all things true crime and I've wondered at times if my interest is too weird, too morbid or too much. I love that Hilary shares my obsession.
In this graphic memoir, Hilary traces her true crime obsession, from members of her family whose obsessions sparked her own to the movies, books, TV shows and podcasts that kept the flame burning.
David Fincher's Zodiac had a huge impact on Hilary, in part because she lived so close to some of the crime scenes. True crime even got her back into reading as an adult, first with Robert Graysmith's Zodiac and then anything by Ann Rule.

Hilary considers why the majority of people who watch, read and otherwise devour true crime are women. She also tracks how the types of true crime that have been written about have changed throughout the decades.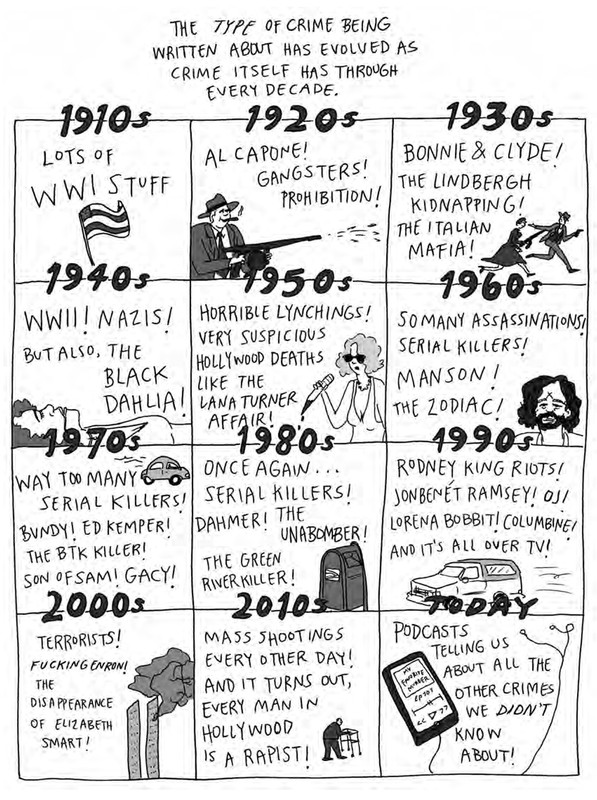 Although this is a memoir, Hilary also explores some crimes that hold special significance to her, including the murder of Anne Marie Fahey and the murders committed by Ted Bundy. I never expected to see true crime explored in a graphic novel, but it worked.
The victims of crime are often practically invisible in their own stories but there was a focus on them here. I especially appreciated learning what their interests were. For example, Betty Lou Jensen liked art, school, studying and fashion.
I know I like to joke, but in all seriousness, a large part of the reason I love true crime is the hope of justice for the victims.
Of course, all of this talk about what started Hilary's obsession got me thinking about my own. I think I can blame my Nan for planting the seed. Her father was the superintendent of ambulances in our state when she was growing up and he had plenty of medical books showing graphic injuries in the home. My Nan grew up reading these gruesome accounts. I grew up listening in awe as Nan regaled me with the stories in those books, always describing the accompanying pictures in detail.
When I was sixteen, the older sister of one of my childhood friends was murdered. She grew up around the corner from me and I had sleepovers at their house when I was a kid. The police officer who lived down the road from me told me more about the crime and subsequent investigation than they probably should have. Obviously I followed the case as it went to trial and the media appearances by her family over the years.
My obsession really took off at university, though. My favourite assessment was when my psychology class was given a murder scenario. Our task was to profile the murderer. I loved trying to get inside the mind of the perpetrator.
This assessment led me to John Douglas books, which only fuelled my obsession. I wanted to be a criminal profiler years before Criminal Minds premiered. Naturally, I was obsessed with that show (especially with Reid).
It's only been recently that I've come across someone who shares my love of true crime and I personally blame them for my latest true crime obsession: Crime Junkie.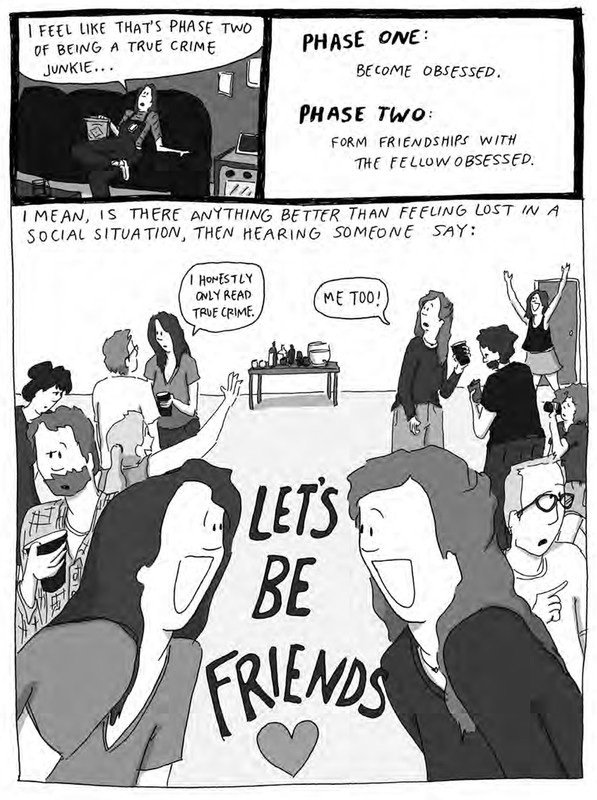 Within a few short months, I've devoured dozens of episodes. I always knew but now I've had it drilled into me that it's never a mannequin. I now answer "And I'm Brit" at the beginning of each episode. "Be weird. Be rude. Stay alive." has become a new mantra.
If you're a true crime junkie, you will find a kindred spirit in Hilary. If you know someone who loves true crime but you just don't get the fascination, this graphic novel may help you understand what it's all about.
There's a lot more text in this graphic novel than most I have previously read. I had difficulty figuring out which order I should be reading panels on some pages but the majority of them were easy to follow. I enjoyed the artwork.
There's humour, like this all too accurate description of movies that are 'based on true stories'.
It's the DRAMATIC, SEXY version of a REALLY HORRIBLE situation that you would never find sexy if it happened to YOU!
It's relatable. Hilary's ability to love true crime, Disney, horror movies and Peanuts simultaneously mirrors my own strangely contradictory loves.
It's a graphic novel I definitely want to reread.
Thank you so much to NetGalley and Andrews McMeel Publishing for the opportunity to read this graphic novel.
Once Upon a Blurb
A humorous graphic investigation of the author's obsession with true crime, the murders that have most captivated her throughout her life, and a love letter to her fellow true-crime fanatics.
Why is it so much fun to read about death and dismemberment? In Murder Book, lifelong true-crime obsessive and New Yorker cartoonist Hilary Fitzgerald Campbell tries to puzzle out the answer. An unconventional graphic exploration of a lifetime of Ann Rule super-fandom, amateur armchair sleuthing, and a deep dive into the high-profile murders that have fascinated the author for decades, this is a funny, thoughtful, and highly personal blend of memoir, cultural criticism, and true crime with a focus on the often-overlooked victims of notorious killers.