Illustrations – Rachel Wells
This is the latest in my That's Not My … obsession. This time we take on UNICORNS!!!! This is my second unicorn read this month and I have another two planned for the weekend. As I missed (shame on me!) Unicorn Day on 9 April, but will most certainly be celebrating it annually from 2018, I officially declare this …
🦄 Unicorn Month! 🦄
This was another cute addition to the That's Not My … series, but so much better because, duh, unicorns! I for one am stoked that our sweet little white mouse rejected so many unicorns on the way to finding theirs, because that leaves five unicorns looking for someone to love them – and I call dibs on all of them!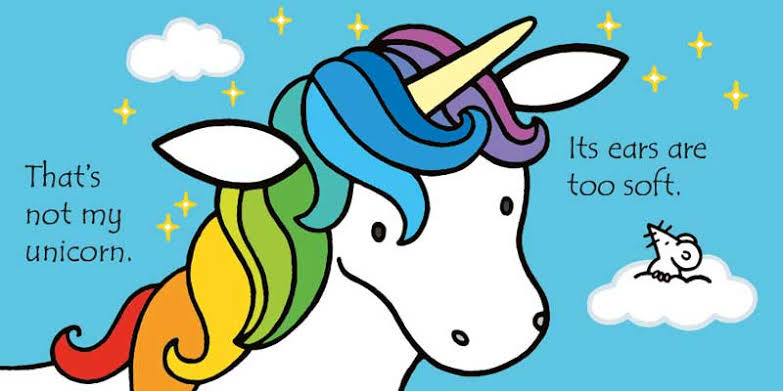 I want the one with the fluffy mane. I want the one with the rainbow coloured mane and super soft ears. I want the bumpy hooved one with the pink mane and purple stripey horn. I want the furry tailed one with the yellow mane and horn. Oh, and I certainly claim the smooth winged one with pink mane and yellow horn flying past the rainbow. If any of you want to borrow one at any time you're more than welcome but as I already made pretty clear, I've got dibs on every single one of the rejects. So there, Mr Mouse! You don't get to change your mind now!
Just between you and I, Mr Mouse had better be on the lookout because I may well be planning on unicorn-napping borrowing his unicorn with the rainbow coloured mane and sparkly horn in the near future.
Once Upon a Blurb
The 50th title in the internationally best-selling That's not my … series. This sparkly, touchy-feely book features a magical unicorn to talk about, and a little white mouse to spot on every page. Babies and toddlers will love turning the pages and touching the textured patches as they try to find their unicorn.