Clifford and Emily Elizabeth celebrate the eighth day of Hanukkah with Emily Elizabeth's classmate Melissa and her family. They learn about Hanukkah traditions and eat a dinner that sounds so yummy before going to the town square to see the giant menorah. Clifford even has the opportunity to save Hanukkah when the menorah's lights go out. This would be a lovely book to use to introduce kidlets to the traditions of Hanukkah.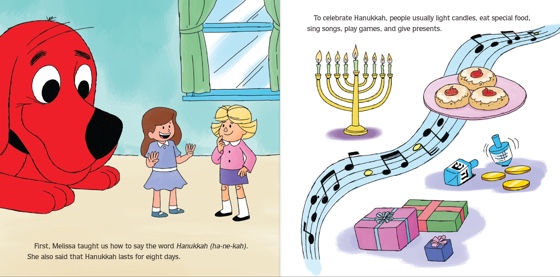 I'm not sure if I've ever seen Clifford look any more adorable than he does in this book. When he first meets Melissa's family he's sitting wagging his tail with this goofy cute smile and waving at them. There's no such thing as a bad Clifford book.
Once Upon a Blurb
Clifford and Emily Elizabeth are celebrating their first Hanukkah. They love hearing the story of Hanukkah, eating "latkes" (fried potato pancakes) and "sufganiyot" (fried jelly donuts), and playing dreidel.
After dinner, Clifford and Emily Elizabeth take a trip into town to see the giant menorah. But when they get there, they discover that one light is broken. It's too late in the evening to call a handyman, but maybe Clifford is big enough to help save Hanukkah!