Mickey Mouse made his cartoon debut in 1929 in Plane Crazy with his girlfriend Minnie. Since then Walt's creations have made their way into so many hearts around the world, including mine. Family members have long joked that they're going to drop me off at Disney World; promising they'll come visit me at my new home from time to time.
I have zero artistic ability but a Disney book was always going to pique my interest. I was expecting the step by step instructions to recreate Mickey, Minnie and the rest of the gang but I didn't realise I'd also find such an interesting history lesson about the introduction and progression through the decades of my childhood friends.
I loved the animation timeline shown at the bottom of the information pages and I adored the layout of the entire book. You can really see the progression of Mickey and his pals throughout the years in the frames from classic cartoons. There are also tips on the illustration pages that will help bring out the characters' expressions and personalities.
I didn't think for a second that I'd have a chance at replicating any of the step by step masterpieces and chuckled to myself when I thought about the scary monstrosities I could come up with from trying to attempt just Step 1. However, when I looked at the illustrations objectively, I could see how they would help someone who can already draw turn their pencil strokes into something that would make Walt himself proud. I do think this would be too advanced for most kids though.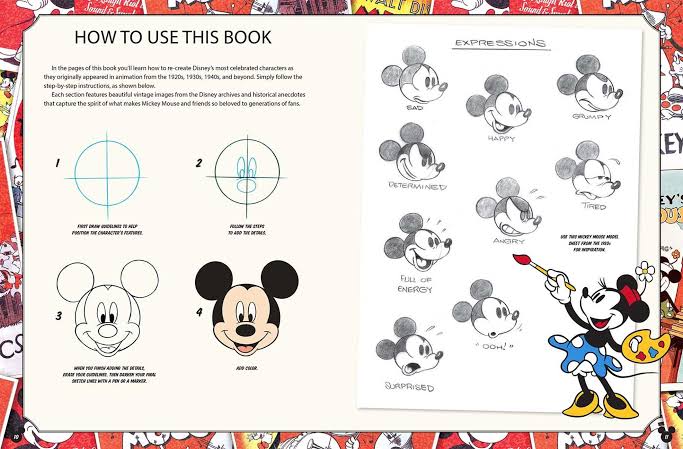 The projects begin with 1920's Mickey and Minnie, along with Pete from Steamboat Willie (who was actually first drawn as a bear three years before Mickey was born).
In the 1930's audiences were introduced to Pluto, Goofy, Donald Duck and his nephews Huey, Dewey and Louie, Daisy Duck and Mortimer Mouse. Goofy and Daisy originally had different names. The 1930's projects teach you Pluto, Goofy, Donald, Huey, Dewey and Louie, as well as 1930's versions of Mickey and Minnie.
The 1940's & Beyond section includes my favourite illustration; Mickey as The Sorcerer's Apprentice. There are also other more modern Mickey's and Minnie's to draw, as well as Goofy, Pluto, Donald Duck and Daisy Duck.
Fun Fact: Did you know that 1943's Pluto and the Armadillo was the last time Mickey wore his iconic red shorts until 1995?
While this book will certainly appeal to artists, the additional information about Mickey and co. along with the promotional posters and photos of such Disney awesomeness like the desk where Mickey was drawn for 45 years elevates this book to Disneyana status. I loved it!
Thank you so much to NetGalley and Quarto Publishing Group – Walter Foster for the opportunity to drool over this book.
Once Upon a Blurb
Learn to Draw Mickey Mouse & Friends Through the Decades is a must-have collector's item that celebrates the world's most beloved mouse and his pals through step-by-step drawing projects and vintage artwork from the Disney archives.
On November 18, 1928, Walt Disney unveiled a cartoon character who would soon become one of the most recognisable global icons: Mickey Mouse. Since then, Mickey has touched the lives of fans of all ages, all around the world. For more than 90 years,Mickey has undergone several transformations, changing in appearance from his premiere appearance in "Steamboat Willie" in the 1920s to the modern mouse we know and love today. A collection of vintage artwork from the Disney archives reveals early designs, sketches, and poses of Mickey Mouse, as well as other classic characters, such as Minnie Mouse, Goofy, and Donald Duck.
This book celebrates Mickey and his friends with 128 pages of art instruction and animation history, making it a covetable collector's item for any Disney enthusiast or aspiring artist interested in learning to draw in vintage cartoon style.
Featured projects include the evolving looks of Mickey Mouse, Minnie Mouse, Donald Duck, Daisy Duck, Goofy, and Pluto. Each section of drawing lessons is categorised by style and decade in Disney history. Artists and fans alike will find interesting anecdotes and facts sprinkled throughout Learn to Draw Mickey Mouse & Friends Through the Decades, for a well-rounded collector's experience that is sure to entertain and enlighten.