Illustrations – Quentin Blake
Matilda is 30! How is that even possible?! Matilda and I became friends 29 years ago and her story remains one of my all time favourites. I couldn't tell you how many times I've read it over the years but I can say that it gave me hope that circumstances can always improve, taught me that girls can be powerful and resilient, and that it is perfectly okay to be a book nerd, and proven if you're really lucky you'll find your very own Mrs Phelps and Miss Honey. I spent my childhood on the lookout for my Miss Honey.
I never had friends that enjoyed reading when I was growing up so Matilda became that for me. We even had a shared favourite book, The Secret Garden. I loved this story so much that the year after I first read it I wrote a multi page poem about the infamous chocolate cake incident for school. Not many things survived my childhood but I still have my treasured 1989 paperback copy of Matilda and that poem.
I found an amazing article by Mara Wilson about Matilda at 30. I love that there are multiple 30th anniversary editions of Matilda, each showing her thriving in a different way. Naturally this means that I have to buy one of each because, you know, marketing and obsessive book love and I have to have them all!!!
I need to press pause for a bit and tell you how much I adore all of Quentin Blake's illustrations in Matilda and the rest of Roald Dahl's books. As a kid I read about a bazillion books and while I always remembered the names of the titles and authors, the only illustrator whose name I knew was Quentin's. Roald and Quentin made a perfect team, with Quentin highlighting all the phizz-whizzing quirkiness of Roald's imagination. Even now I compare every illustrator I come across to Quentin; I can't help it.
I don't think you can truly put into words the impact a book has had on you like Matilda had on me but I know I wouldn't be who I am today without it. While reading it this time I wondered where its characters would be today. I expect I'll change my mind each time I reread this book from now on but here's what I came up with this time:
The Wormwoods
Michael Wormwood eventually reconnected with his brilliant sister and they stay in regular contact. After some turbulent times as a teenager where he made some choices he'd prefer to forget including stealing cars, Michael turned his life around and now mentors troubled teens.
Mrs Wormwood is now a frumpet in an aged care facility where she cheats at Bingo and watches her programmes. She did try to sell Avon for a while but potential customers took one look at her caked on makeup and shut the door in her face. She never made a single sale. She bleached her hair one too many times so she's now bald and her face has a look of perpetual surprise due to botched plastic surgery.
Mr Wormwood remains a grunion. The Wormwoods lived in Spain for a few years until his schemes were discovered and they were run out of the country. After trying and failing to implement new scams in numerous other countries Mr Wormwood eventually found work at a sawdust mill. His boss is a woman. He has a phobia of hats.
The Kids
Fred, Matilda's friend who owned Chopper the parrot, became a veterinarian.
Lavender remains adventurous and now spends her days touring the world, conquering one extreme sport after another. She has lucrative sponsorship deals and whenever she's photographed you can be sure her hair is a different colour, but never lavender. She has a pet newt and remains in contact with Matilda.
Hortensia now owns a pub and is known to regale her customers with wild, detailed yarns about her formative years under the watchful glare of the Trunchbull and her experiences in The Chokey. No one knows whether to believe her or not but she's a born storyteller so they always come back for more.
Ollie Bogswhistle double crossed the wrong people and wound up serving time. He's currently a prison snitch and after being on the receiving end of one too many punches he now sports a full set of dentures.
Julius Rottwinkle has a fear of heights and flying, among many other phobias. He attends therapy frequently. He hasn't eaten liquorice since he was a child.
Nigel Hicks has extraordinary balance. He wrote a book espousing the health benefits of not showering very frequently but for some reason remains single.
Prudence, emboldened by being able to spell a 'difficult' word in Miss Trunchbull's presence, went on to become a spelling bee champion.
Amanda Thripp never cut her hair again, an achievement that has made her the Guinness World Record holder for having the longest hair. She only ever wears her hair in pigtails.
Rupert Entwistle works at the Natural History Museum but his passion is cryptozoology. He had a secret crush on his next door neighbour Lavender for many years and follows her adventures on social media.
The other Rupert, Matilda's classmate with the golden tresses, became an accountant and carries a calculator wherever he goes.
Eric Ink has a most unusual party trick; he can waggle his ears at will. He loves cosplay and due to his large pixie shaped ears he never needs to worry about adding prosthetic ears to his costumes.
Wilfred overcame his fear of being upside down when he went bungee jumping.
Bruce Bogtrotter became a competitive eater during high school and is now a well known food critic. His favourite food is chocolate cake and travels the world in search of a more delicious cake than the one Cook baked for him. He's yet to find one.
The Crunchem Staff
Cook, may she rest in peace, quit her job shortly after selling her prized chocolate cake recipe to the highest bidder and then proceeded to lose every cent betting on the horses.
After Mr Trilby became the Head Teacher of Crunchem Hall Primary School the students and teachers breathed a collective sigh of relief. He became the most loved Head Teacher that ever ran the school. Sure, that's not saying much, but he was wonderful. Honest!
Miss Plimsoll remained a teacher until she retired. She never had another student as brilliant as Matilda.
The Trunchbull was never heard from again. A school without children was established several years after she disappeared. While record numbers of applications were received for the school's teaching positions, the school itself surprisingly went bankrupt within its first year and was forced to close. There is an old lady in Arkham Asylum that constantly mutters about chalk but no one knows who she is.
The Heroes
Mrs Phelps went on to inspire countless young minds to adore reading. A number of her patrons became well known authors and you'll find her name in the dedications and acknowledgement sections of several bestsellers. Mrs Phelps has since retired and now travels the world, Kindle in hand. She spends each Christmas with Matilda and Miss Honey.
Miss Honey found her relatives in Australia and has visited them a few times during school holidays. She adopted Matilda but only because she needed offical paperwork to prove what they already knew; they were family. Miss Honey went on to become many students' favourite teacher and won numerous awards for her pioneering method of using music in her classroom. Her home is full of books. She loves nothing more than pottering around in the garden at The Red House and lives a peaceful, quiet life.
Matilda has led a full life. She couldn't decide which university course to study so she completed them all and was able to study for free because of the scholarships she was awarded. She has travelled extensively, following in the footsteps of the characters in the books of her childhood. She has worked as a librarian, lovingly sharing her passion for books with a new generation. She has also published a number of books, both fiction and nonfiction. She gets excited when she finds a book she hasn't read. After consulting with Matilda behind the scenes many leaders have implemented her ideas to solve worldwide problems. Matilda is a wonderful mother and a loving partner, and Miss Honey remains one of her favourite people. Above all, Matilda is happy.
Thank you so much to NetGalley and Puffin, an imprint of Penguin Random House UK, for the excuse to read this book yet again. As soon as I saw the 30th anniversary edition on NetGalley I got so excited about Quentin Blake's amazing covers I had to see them immediately!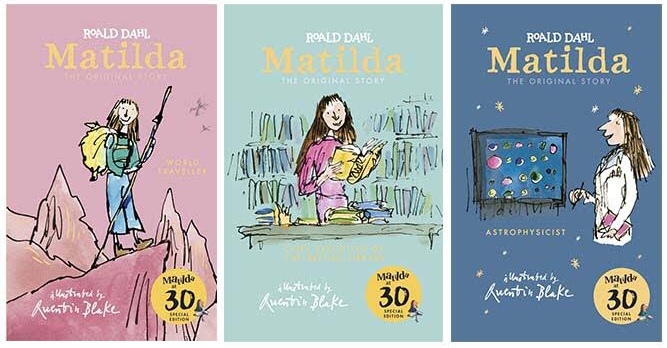 Once Upon a Blurb
Matilda is a little girl who is far too good to be true. At age five-and-a-half she's knocking off double-digit multiplication problems and blitz-reading Dickens. Even more remarkably, her classmates love her even though she's a super-nerd and the teacher's pet. But everything is not perfect in Matilda's world.
For starters she has two of the most idiotic, self-centered parents who ever lived. Then there's the large, busty nightmare of a school principal, Miss ("The") Trunchbull, a former hammer-throwing champion who flings children at will and is approximately as sympathetic as a bulldozer. Fortunately for Matilda, she has the inner resources to deal with such annoyances: astonishing intelligence, saintly patience, and an innate predilection for revenge.
She warms up with some practical jokes aimed at her hapless parents, but the true test comes when she rallies in defense of her teacher, the sweet Miss Honey, against the diabolical Trunchbull. There is never any doubt that Matilda will carry the day. Even so, this wonderful story is far from predictable.
Roald Dahl, while keeping the plot moving imaginatively, also has an unerring ear for emotional truth. The reader cares about Matilda because in addition to all her other gifts, she has real feelings.