Illustrations – Andy Elkerton
🦄 Happy Unicorn Day! 🦄
This was everything I want in a unicorn book! It was a fun read and the illustrations were bright and colourful, with plenty of glitter and rainbows (plus the requisite reference to unicorn flatulence).
From ice cream traps to butterfly nets, a group of kids try their best to catch a wiley unicorn through the zoo's exhibits but this unicorn has a host of animal friends ready to help it evade capture.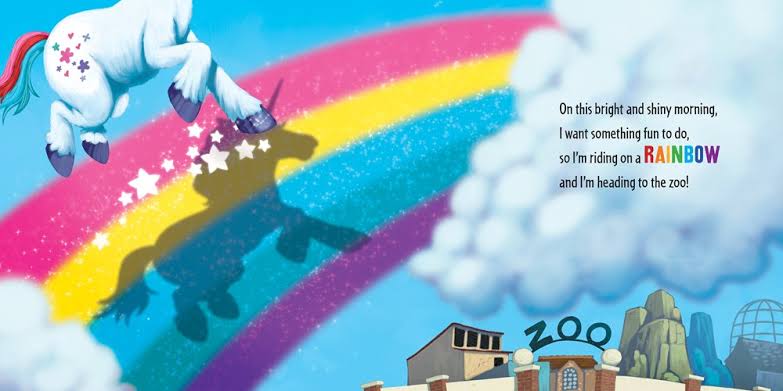 I smiled my way through this book and particularly loved Andy Elkerton's illustrations. I enjoyed the various expressions on the kids' faces when their attempts to catch the unicorn didn't quite go to plan. My favourite near miss resulted in a couple of kids getting soaked by some penguins. I couldn't choose a favourite animal because they're all amazing; they're full of joy and adorably cheeky as they foil the kids' plan.
I really appreciated the creative substitution of the unicorn horn and star for the "i" in the book's title. Oftentimes it's the little extras that make a book memorable long term for me and it wouldn't surprise me if that sparkly yellow "i" is one of the things that find its way into my spontaneous recommendation to some unsuspecting book store visitor weeks or months from now.
I've read this book three times (so far) and plan to read it every day until I have no choice but to return it to the library. I previously fell in love with How to Catch a Monster. Now it's a given that I need to get my hands on the rest of Adam Wallace's How to Catch series.
Once Upon a Blurb
Try to catch one of the world's most elusive mythical creatures – the unicorn! Filled with zany traps and lots of rainbow unicorn fun, this is the unicorn book of the year!
Can you catch the unicorn?
You'll have to use your brain,
So set your traps and prep your team
To pet that rainbow mane!