Illustrations – Sana Takeda
I don't know how to explain what I just read. I'd probably need at least two rereads to get it all straight in my head. There's just so much going on and new characters are flung into the mix with little to no introduction, and most of the time I had no idea how anyone was connected with anyone else. However, I still need to read the next volume.
This volume combines the first six issues of this series and the artwork is exceptional! We begin at an auction, where Maika, a 17 year old arcanic girl with the mark of an eclipsing eye on her chest, is Lot 819. She's there voluntarily because she wants something.
In this warring world, there are cats that talk, humans, ancients, arcanic halfbreeds and the old gods. The ancients are immortal and have magic; there's a dusk court and a dawn court. The arcanics are half human and half ancients. The old gods' "shadows haunt this world"; they are "horrors".
Maika is an interesting character but it was Kippa, the little fox child, who stole my heart. She's loyal and such an adorable sweetheart!
I borrowed this volume from my library in preparation for my planned 2019 Hugo Awards Finalists Readathon. Volume 3 has been nominated in the Best Graphic Story category. Had I not been reading with a purpose in mind I probably would have given up before the end of the second issue. The themes are dark, with war and children being trafficked, tortured and killed, and it's not the kind of graphic novel I usually read (I've just finished a Phoebe and Her Unicorn-athon, for goodness' sake).
I'm glad I kept reading though, because the story did start to come together for me. I'm left with countless questions but I'm intrigued and that's enough at the moment for me to want to continue. I'm expecting my brain will catch up and connect more of the dots as I keep reading. I'm almost positive a reread will result in a more impassioned review.
Whether the story is your cup of tea or not, the artwork is definitely awe inspiring.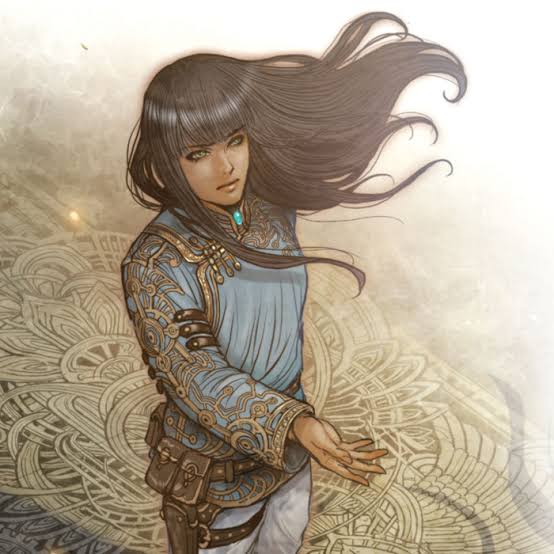 Reread 13 August 2019
Wow! I understand what all of the hullabaloo surrounding Monstress is about now! While I barely knew what was going on during my first read it all came together for me within minutes of starting my reread. I'm so excited to have (belatedly) fallen in love with this series!
I loved my reread so much I kept reading until I'd finished the Volume, after 2:30am. While I have many, many more thoughts, here are a few.
I tend to shy away from stories that include war and I think that may have contributed to my hesitation when I originally began Maika's story. Between my first and second times through this Volume I binged nine Volumes of Saga, which proved I could fall head over heels with a series that includes war. This time around I went into Monstress with more of an open mind and the super helpful THE STORY SO FAR … summaries at the beginning of each issue from the second one. These summaries don't exist in the paperback Volume I borrowed from my library and could have made all the difference in stopping my head from spinning around during my first run through if I'd known of their existence.
It was also at the end of the first issue that I found the most incredible quote from Marjorie Liu about this series and my love for it solidified my need to continue and unearth my Monstress obsession.
"And the root of my desire, I finally realized, was to tell a story about what it means to be a survivor. A survivor, not just of a cataclysmic war, but of racial conflict and its antecedent: hatred. And to confront the question: how does one whom history has made a monster, escape her monstrosity? How does one overcome the monstrousness of others without succumbing to a rising monstrousness within?"

I haven't been reading graphic novels for very long and until this one I'd never encountered one with such complexity, with so many characters and questions that linger in your mind for several issues (or Volumes). Again I have Saga to thank for making me realise what I'd been missing out on.
Throughout the course of this Volume Maika seeks answers relating to the murder of her mother and the hunger within her which has recently awoken. She meets sweetheart Kippa, an Arcanic fox girl she saves from slavery, and Ren, a nekomancer cat. Kippa is loyal and she trusts Maika, although she is rightfully scared of the hunger inside Maika. Ren's loyalties are not as clear.
While she was in the stronghold of Cumaea, Maika found a photograph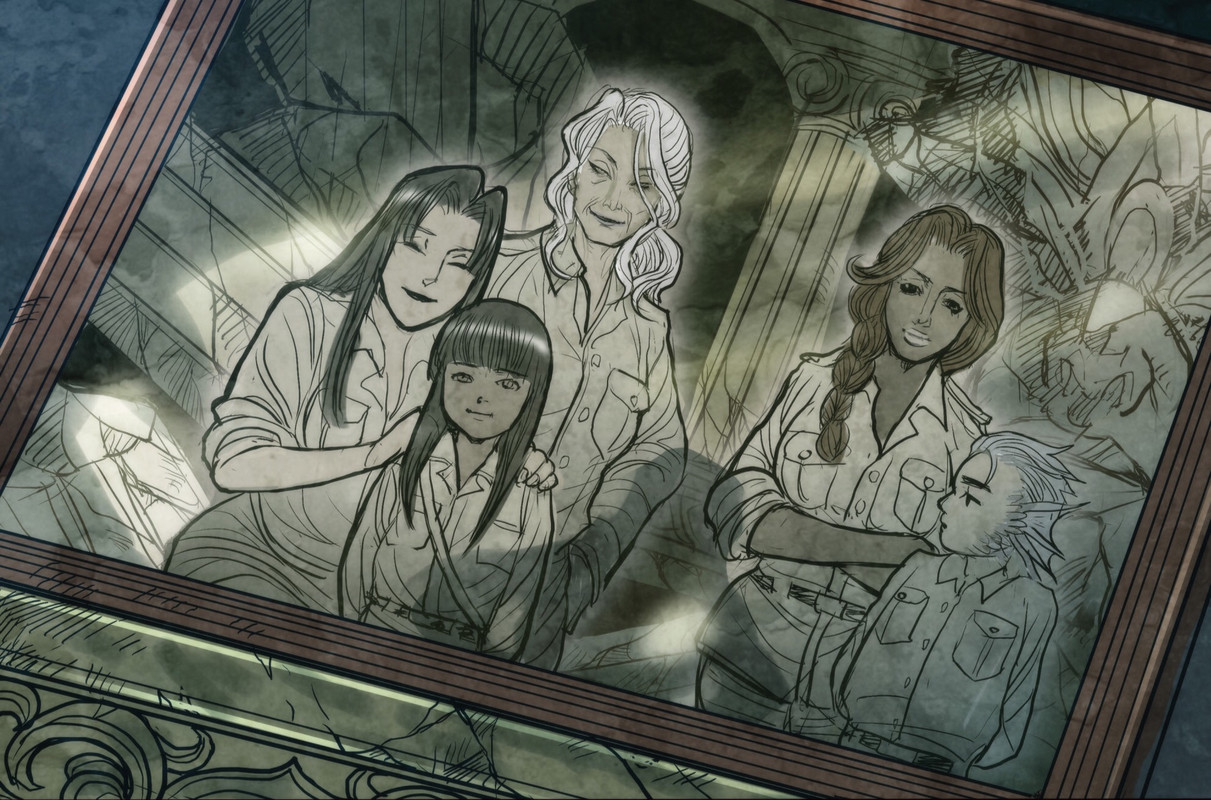 and a piece of an ancient mask, both of which she hopes will help her find out more about her mother's murder. Maika is now on the run, doing everything she can to ensure her hunger doesn't result in her eating adorable Kippa,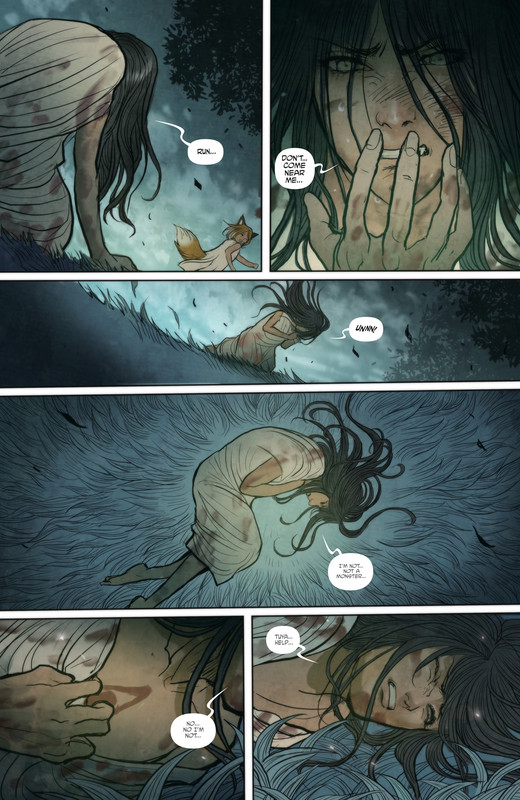 while trying to avoid the different factions who are all hunting her.
I got so much more out of this Volume this time around and launched straight into Volume 2. I appreciate the intricacies of the storyline now. What hasn't changed between reads is my love for the jaw dropping illustrations. I could cheat and tell you that every illustration was my favourite but for this read I narrowed it down to these three. I expect I'll have different favourites each time I open the pages though.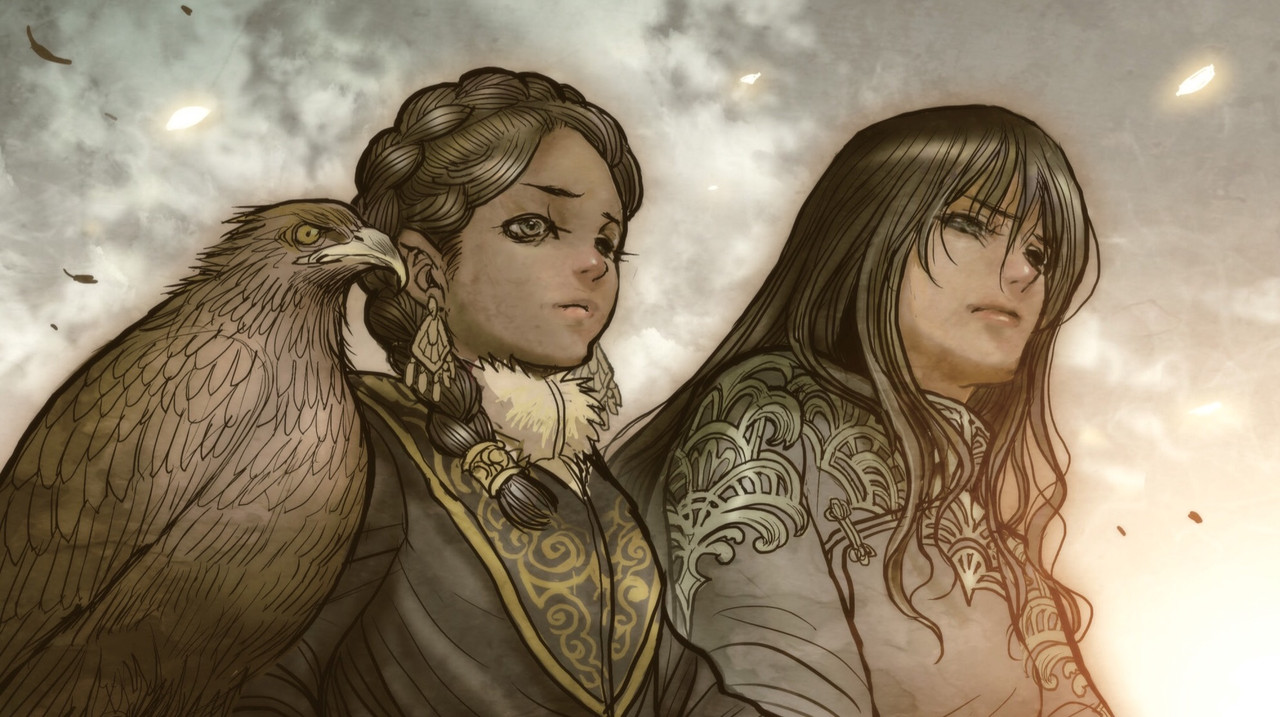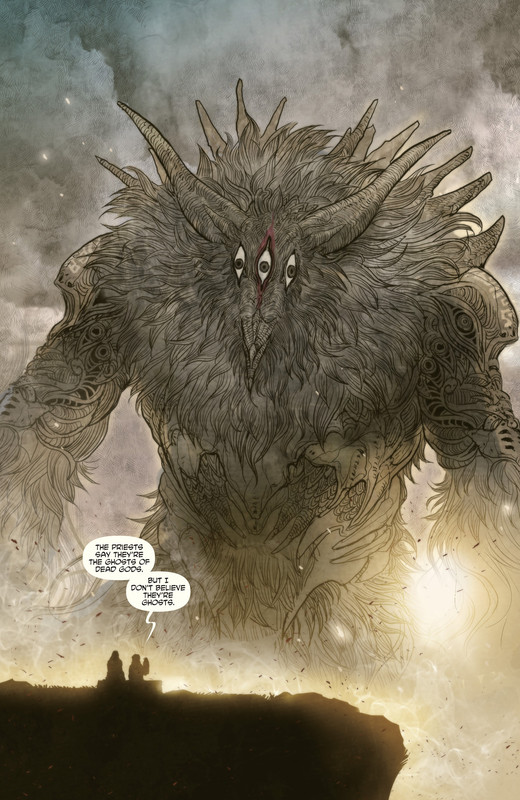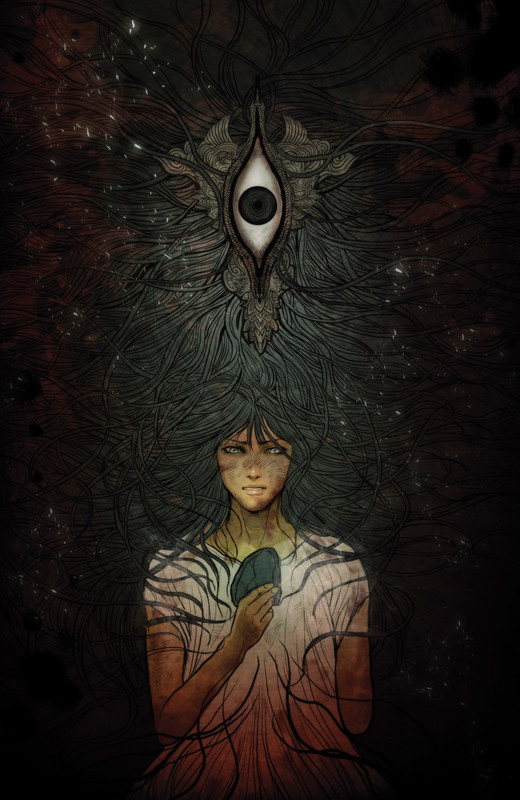 If, like me, your first Monstress attempt had you scratching your head, I would encourage you to give it another try. Trust me, it's worth it! If you already understand the hunger for more Monstress, I know what you've all been talking about now! I may be late to the party but at least I've finally arrived.
Once Upon a Blurb
Set in an alternate matriarchal 1900's Asia, in a richly imagined world of art deco-inflected steam punk, Monstress tells the story of a teenage girl who is struggling to survive the trauma of war, and who shares a mysterious psychic link with a monster of tremendous power, a connection that will transform them both and make them the target of both human and otherworldly powers.
Collects Monstress #1-6.