Illustrations – Cliff Chiang
Colours – Matthew Wilson
Spoilers Ahead!
So, there I was, happily binge reading my way through Saga and I suddenly remembered that the first Volume of Paper Girls needs to be returned to the library urgently. I had planned on reading both series anyway for my barely started (😱) 2019 Hugo Awards readathon and while the two series have different illustrators they share an author. Since I am now obsessed with Saga I assumed I'd be gaining a new obsession tonight. After all, when I originally looked at the blurbs for both series, it was Paper Girls that I was more excited about.
Long story only slightly shorter (sorry!), it turns out that I was wrong. Yes, I enjoyed this first Volume but I'm almost certain that I wouldn't be picking up Volume 2 if not for the Hugos. I'm not emotionally attached to any of the characters I've met so far (unlike the immediate connections I've felt with practically every Saga character I've encountered). I know hardly anything about any of the four Paper Girls and while I'm generally okay with multiple unanswered questions this early in a story I'm not that curious about the answers at this point.
Because Volume 4 has been nominated for a Hugo Award this year I'm convinced there's awesomeness to come if I give it a chance. There's a lot of potential here – countless people have vanished, the sky's now very pretty but definitely not typical, pterodactyls, people speaking unknown languages, time travel, and a group of 12 year olds who are left to figure out what the hell is going on.
It may be a week or two before I begin Volume 2 so the rest of my review will consist of notes I've made to remind myself of what I think I already know. Beware: spoilers ahead.
It all begins on All Saint's, Tuesday, 1 November 1988 in Stony Stream, Ohio. Our four Paper Girls are (from left to right):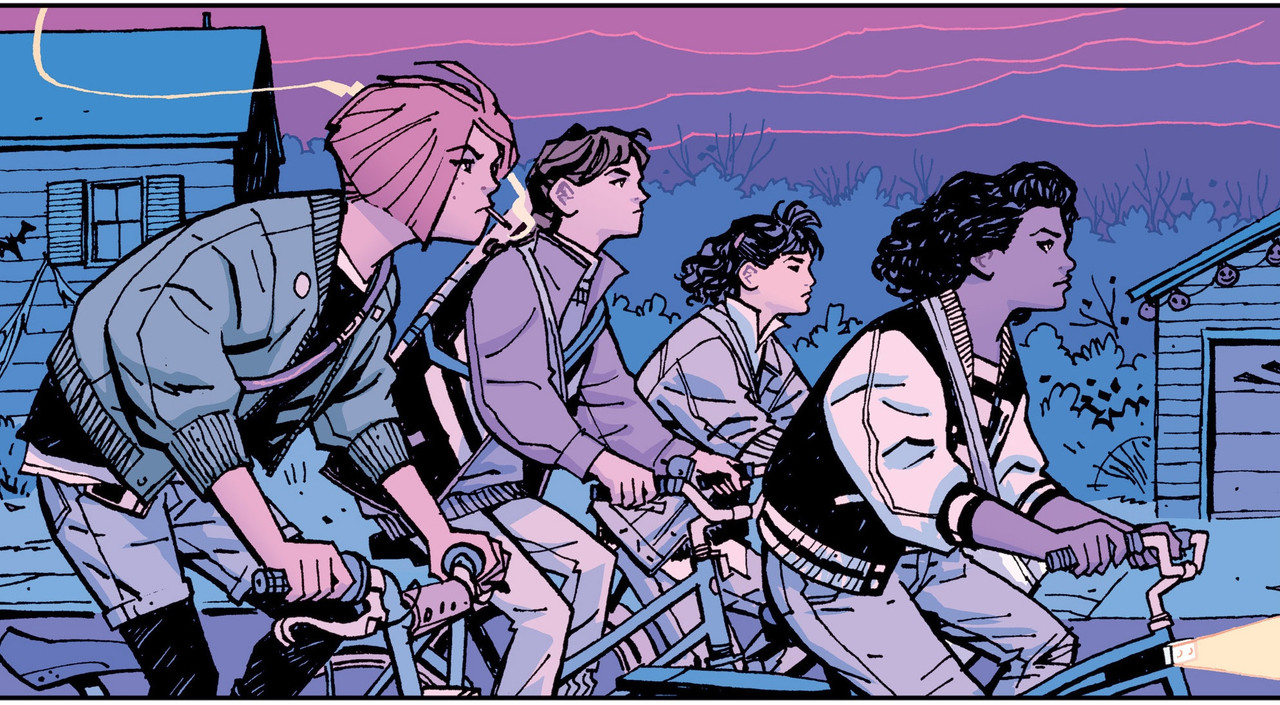 MacKenzie (Mac) – smokes, is a Girl Scout, and has a teenage brother. The local police are well acquainted with her family. Her father and stepmother, Alice, met at an A.A. meeting. She doesn't attend private school.
KJ – carries a hockey stick, goes to Buttonwood Academy and is Jewish.
Erin – the new kid. Her younger sister Missy is her only friend and she attends St. Nicks.
Tiffany – saved up to buy the group's walkie-talkies. Her mother is a doctor, she was adopted and she attends St. Pete's.
They don't know what's happening and they don't know who to trust, the teenagers,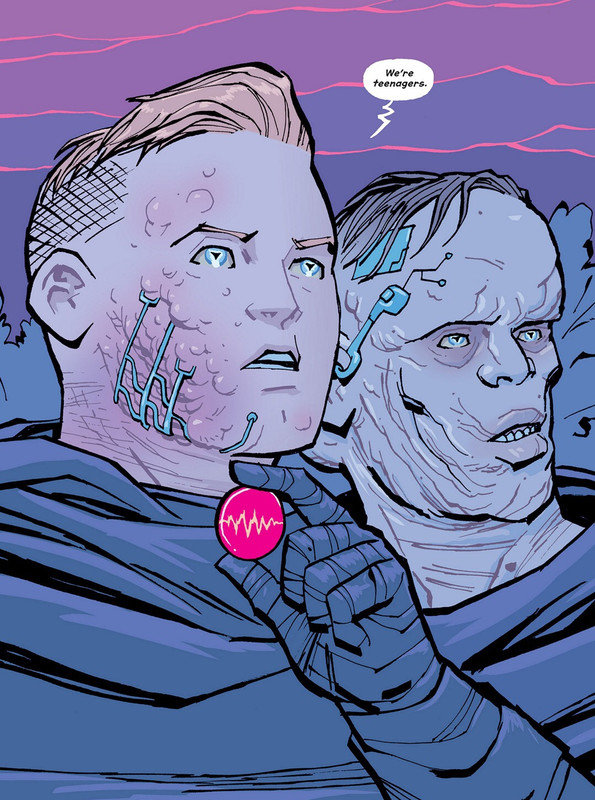 the old-timers,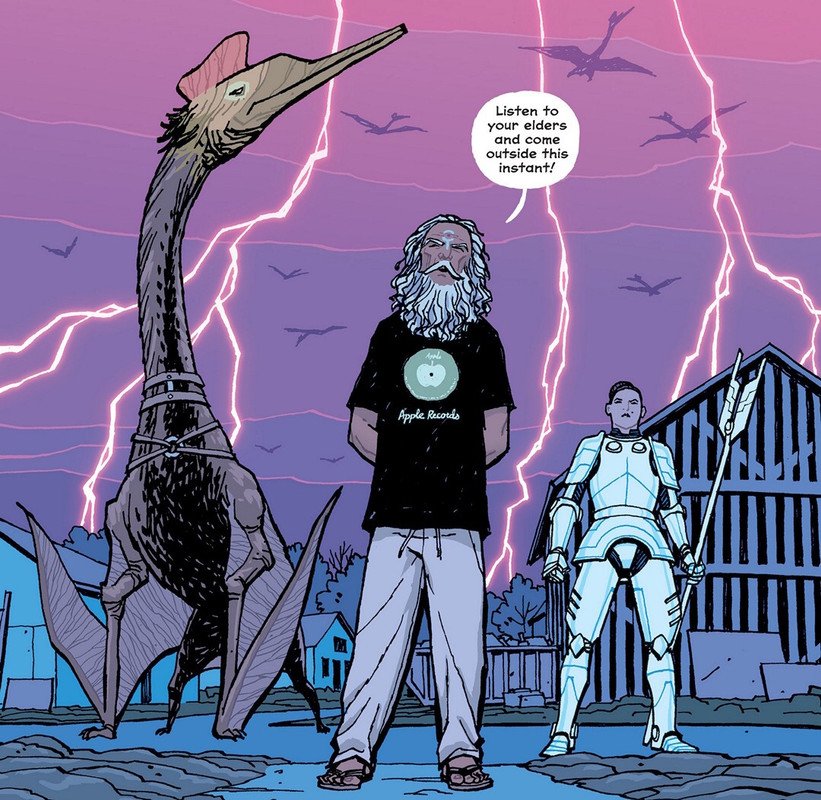 or neither. However they have figured out that they don't want to be near an Editrix. This is an Editrix.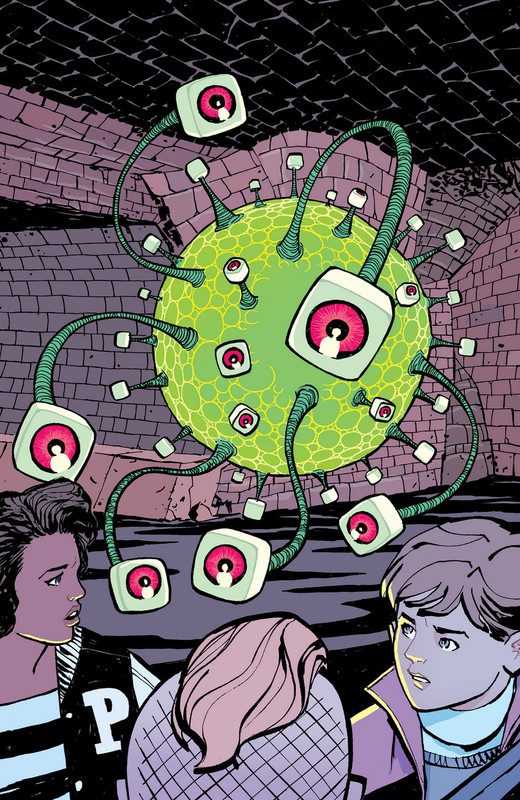 Teenagers, Heck and Naldo, are from Thirteen. "Oh, right, we kinda rolled back the odometer after Calamity ended all the – -"
The most sense I managed to get from someone I think was an old-timer was, "Children, your questions will be answered, but it's very dangerous for you to be out during Ablution."
Content warnings include homophobia, alcoholism and attempted suicide.
I hope an eventual reread (after I figure out all of the pieces of the puzzle I'm currently missing) will result in both a higher rating and an updated review rambling about the brilliance that I missed during my first read.
Once Upon a Blurb
Saga writer Brian K. Vaughan launches a brand new ongoing series with superstar Wonder Woman artist Cliff Chiang! In the early hours after Halloween of 1988, four 12-year-old newspaper delivery girls uncover the most important story of all time.