Illustrations – Fiona Staples
Spoilers Ahead!
It's been three months since we last saw our favourite family. Hazel, Alana and Klara have been kidnapped by Dengo, who has his reasons. He also had his reasons for kidnapping Prince Robot IV's newborn son. Something about seeing a kidnapper wearing a baby sling with little ducky's on it humanises him for me, even if he is a robot. You could say that Izabel may also have been kidnapped but, since the damn suns haven't set, she's not part of the equation right now. I missed her.
Meanwhile, Gwendolyn, Sophie, The Brand, Sweet Boy (The Brand's dog) and Lying Cat (awesome, awesome Lying Cat) are searching for a very specific ingredient on Demimonde that they hope will cure The Will. But they may not be alone. Enter Halvor, who is the older brother of The Stalk. Incidentally The Stalk actually had a name – Enriette.
Then there are Prince Robot IV (with his TV head), Marko, Yuma and Ghüs, who have joined forces (possibly temporarily) in order to rescue TV head IV and Marko's kidlets.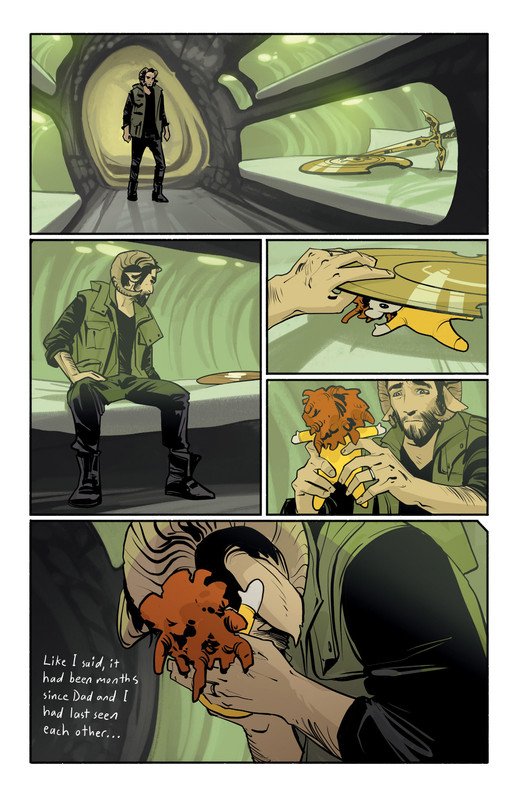 Poor Marko!
We meet the Revolution, a group of resistance fighters who use "asymmetrical tactics" to attempt to end the war between Landfall and Wreath.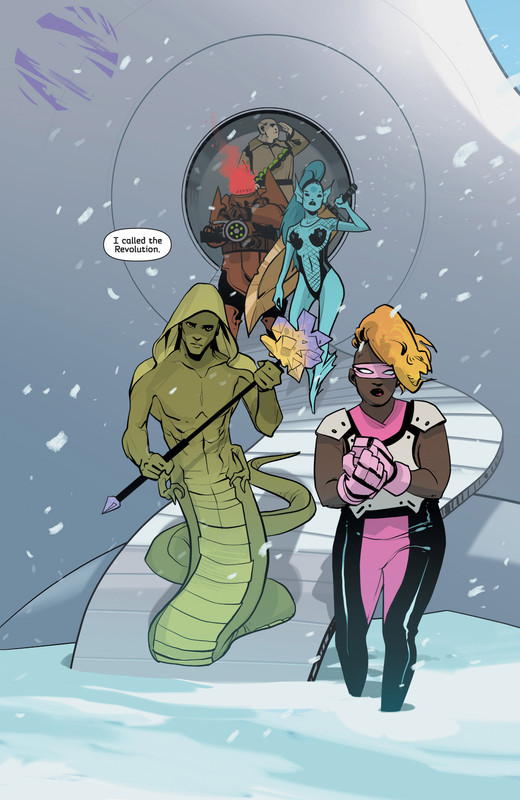 They are Lexis (with the pink superhero eye mask), Sirge (the big brown guy with the red flames (?) coming out of his head), Quain (a snake guy from Mawker and the Captain of the Fourth Cell), Zizz (the guy at the back. He's from Cleave. Remember we were there in Volume 1?), and Julep (the aqua lady in the lingerie).
There's plenty of action in this Volume and because we're in a war here, not all of our friends or foes are going to make it to the end of the story, or this Volume if we're being honest.
Even though Hazel told us herself in the last Volume that she's not always this adorable, she certainly is in this flashback. Aww!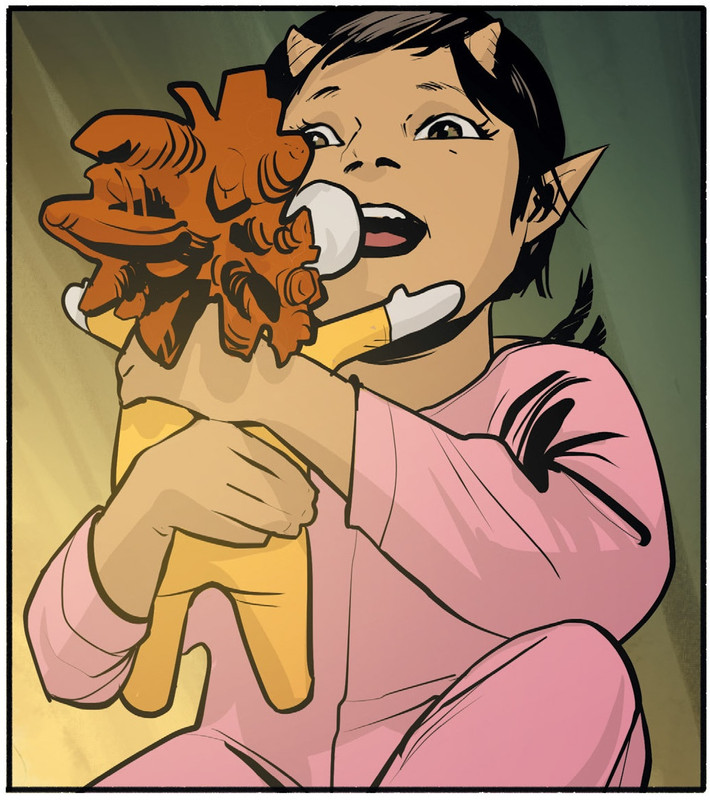 While we're talking cutie pies, check out how sweet Lying Cat looks when they're sleeping. For a series with a brutal war at its core I find my heart melts much more frequently than I expected it to.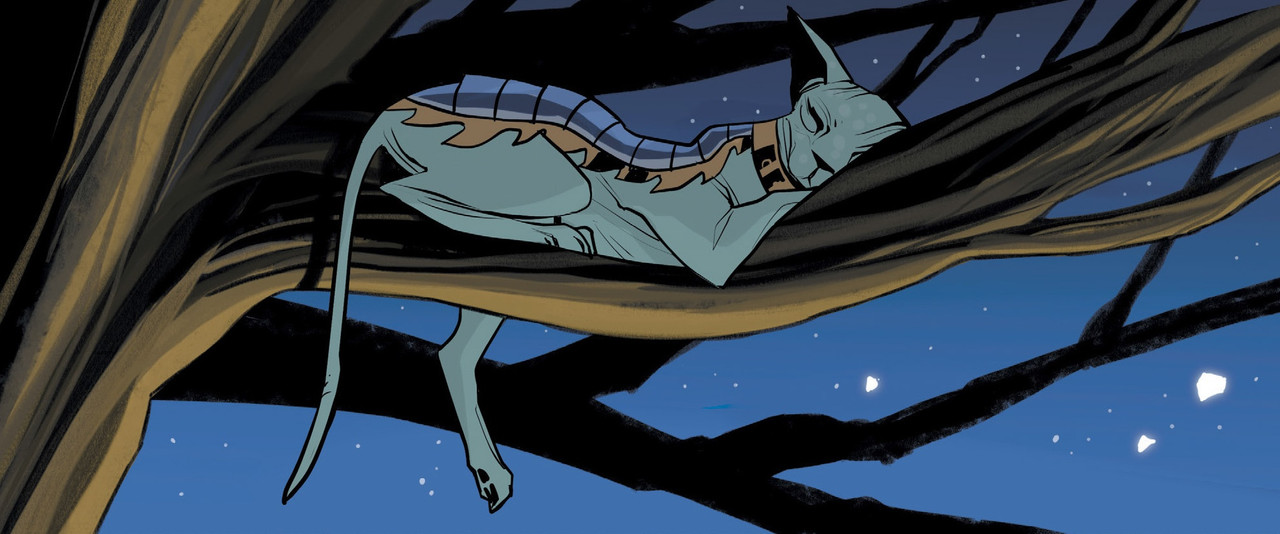 Then there's Ghüs, who is potentially the sweetest of them all. Maybe.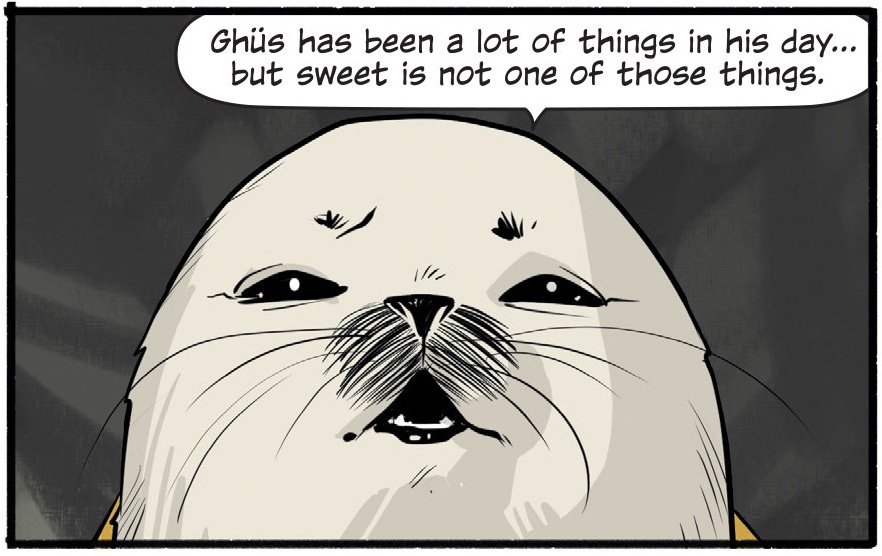 Content warnings include drug overdoses and a character calling another one "retard", a word I despise; thankfully it's challenged.
Once Upon a Blurb
Multiple storylines collide in this cosmos-spanning new volume. While Gwendolyn and Lying Cat risk everything to find a cure for The Will, Marko makes an uneasy alliance with Prince Robot IV to find their missing children, who are trapped on a strange world with terrifying new enemies.
Collects Saga 25-30.