Illustrations – Fiona Staples
Saga Volume 9 is a 2019 Hugo Awards finalist in the Best Graphic Story category and my (slow but steady) Hugo readathon is the reason why I started binge reading the series last week.
In the process I've met new friends, lost a lot of new friends and fallen in love with a galaxy I didn't even know existed until recently.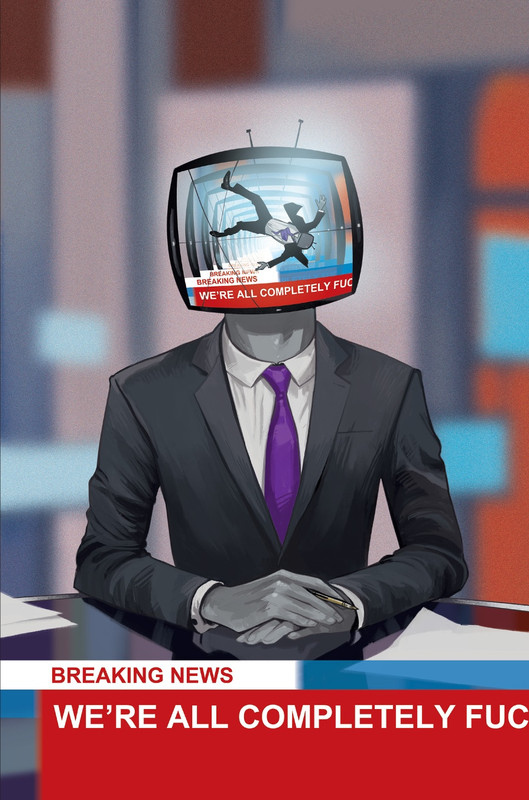 Huh. Well, that sounds ominous.
The Will and Ianthe [hiss!] have arrived on the planet where we last saw Alana, Marko, Hazel, Friendo, Petrichor, Ghüs, Sir Robot, Squire, Upsher and Doff, who are all together aboard the treehouse rocketship. Hazel and Squire now act like they're siblings, Petrichor and Sir Robot now act like … something else, Upsher and Doff are still trying to secure the story of their lives, and Ghüs is playing babysitter, remaining cute no matter what he does.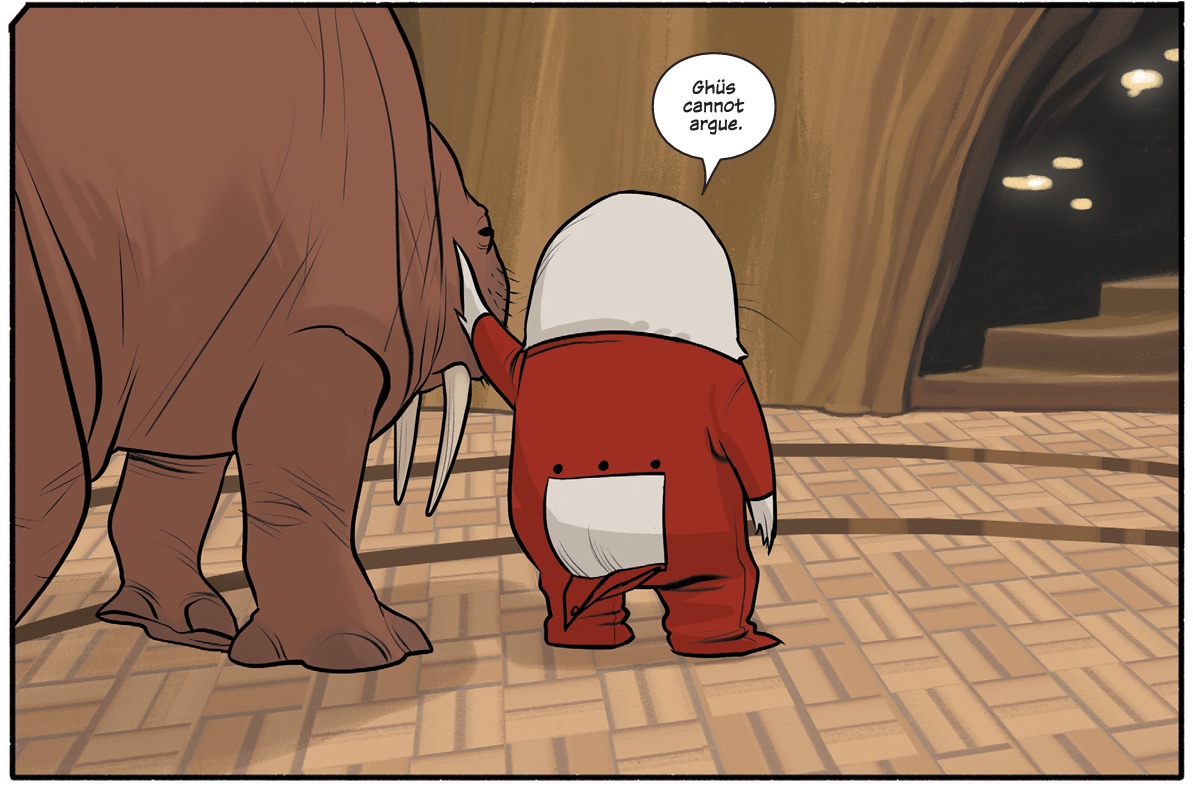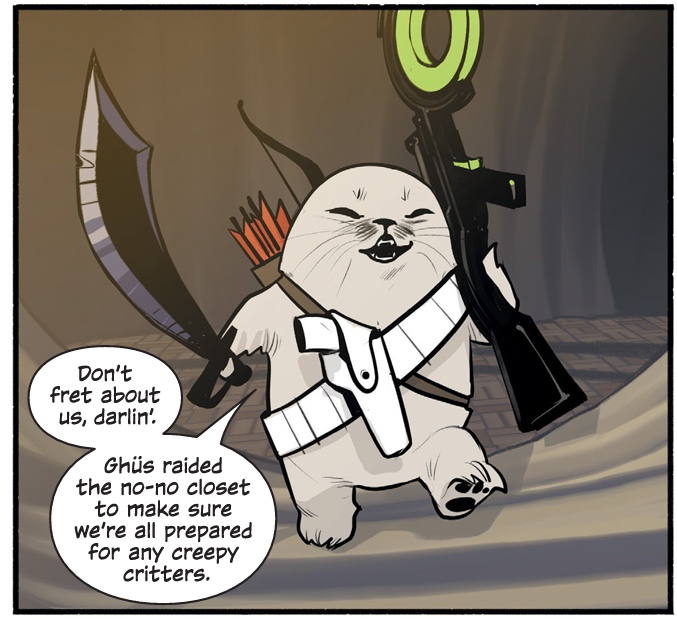 See? What did I tell you?! Cutie pie!
The treehouse rocketship lands on Jetsam, home of our tenacious tabloid reporter and photographer. Upsher and Doff have offered our favourite family a deal that seems too good to be true but they're not the only ones who may be considering it.
Sir Robot reminded me why I don't completely trust him and elsewhere, Agent Gale resurfaces; both men have their own agendas. So many competing agendas in this series! Most of which aim to harm my our favourite family!
The past catches up with a few of the characters and it's Saga, so not everyone is going to come out of it alive and those that are left to pick up the pieces are changed. So am I.
Anyone can kill you, but it takes someone you know to really HURT you. It takes someone you love to break your heart.
The details in the illustrations keep delighting me. Squire's ducky baby sling has now been converted into a backpack! It was a nice thing to notice in between all of the times my heart was shattered.
Anticipation and dread aren't opposites, just different versions of the same game.
This is the first cliffhanger I've been involved in where I don't have the luxury of immediately picking up the next Volume and I chose one hell of a time to be stuck on this damn cliff wanting to curl up in the foetal position.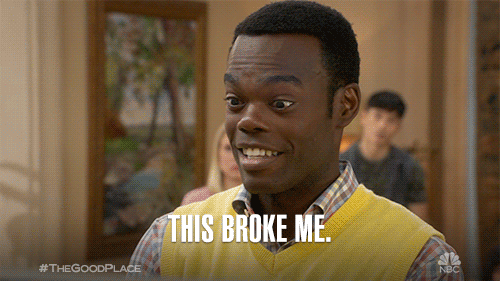 Seriously, I think the author and illustrator of this series are going to need to start paying my therapy bills! I know we're at war here but you're only allowed to kill off people I don't like from now on, okay?
So, until I get the opportunity to continue this series I'm going to pretend I wasn't traumatised by this Volume. Instead I'm going to remember this brief respite from danger, when fun existed and even those in whatever galaxy this is knew how to reference Jaws.
Maybe in the next Volume Gwendolyn, Sophie and Lying Cat (who were physically absent during this Volume) will find a way to make everything miraculously okay again? Hey, a girl can hope!
Content warnings include continued graphic sexual content and violence, physical abuse and mention of death by suicide (although I suspect it was more likely to have been murder).

Once Upon a Blurb
The multiple Eisner Award-winning series returns with a spacefaring adventure about fake news and genuine terror. Get ready for the most shocking, most impactful Saga storyline yet.
Collects Saga #49-54.