Illustrations – Fiona Staples
Spoilers Ahead!
Hazel's mother, Alana, is from Landfall, a "sci-fi wonderland", and her father, Marko, is from Wreath, Landfall's moon, a "magical fantasy realm", but nothing's feeling overly magical or wonderful right now because my heart was unceremoniously sliced open (multiple times) by the author and illustrator during the last Volume. Not satisfied with their previous attempts to destroy my emotional integrity, they commenced with the agony as soon as this Volume began.
It's been two months since we've last seen our favourite family and I cannot even imagine the hell they've been through in the meantime, or the hell that they're about to endure. I really can't. This series is definitely not one to shy away from the really big issues.
So, we're on a planet called Pervious travelling to the Badlands and although we're here for more heartache, at least they have pretty multicoloured zebras there to remind us there's good in the world too. After all, we need this reminder when we discover Dung People are also found here. So, without further ado, meet Button.

Petrichor and Hazel have the discussion about their bodies in this Volume that I've been waiting for and it was handled so well. I love that the diversity of this series includes a transgender woman. Petrichor has intrigued me since I met her and she's finally given a chance to really shine in this Volume. No matter what she does from this point forward I'll have her back.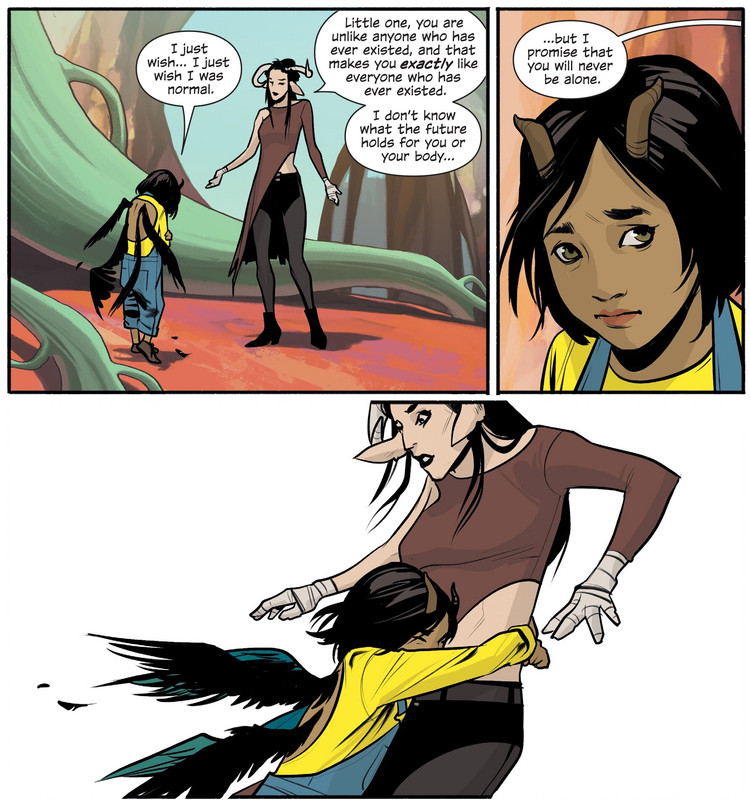 A Volume of Saga is not complete unless we get to meet some new people. In this Volume Petrichor and Sir Robot meet up with a family – Kidd, Paw and Maw,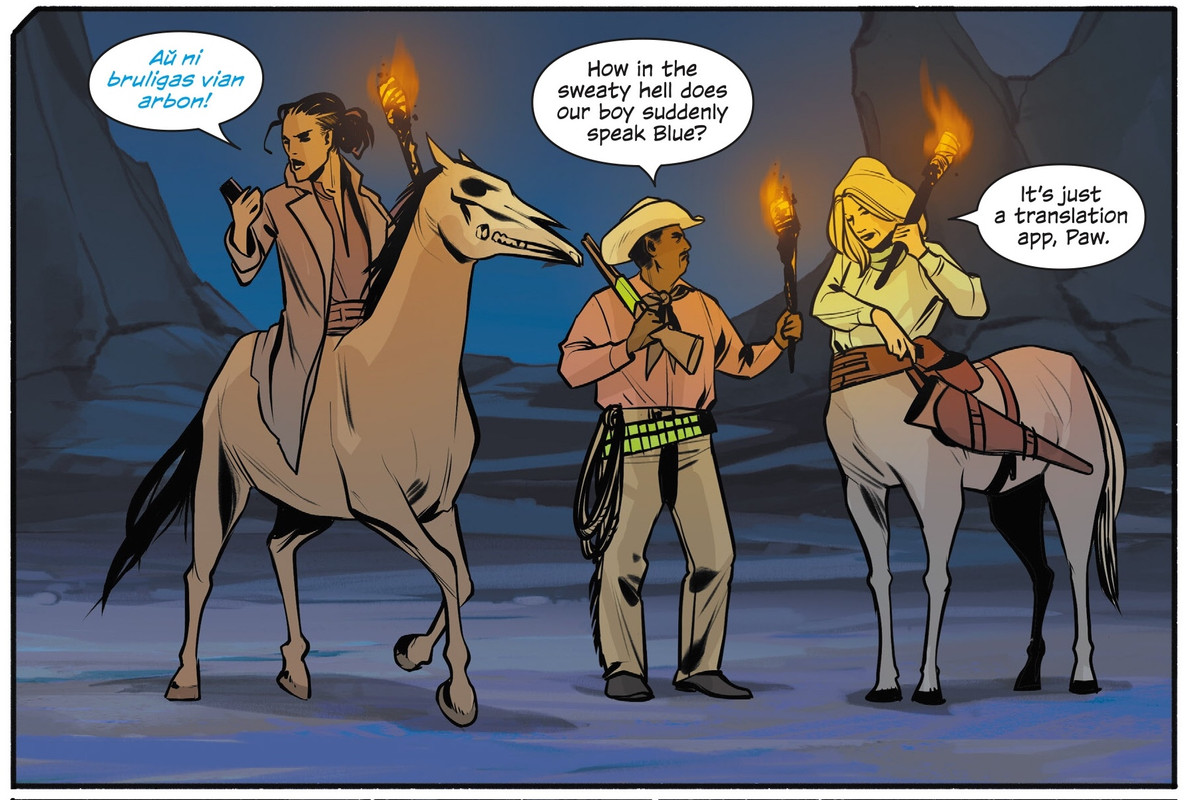 while Alana, Marko and Hazel meet Endwife.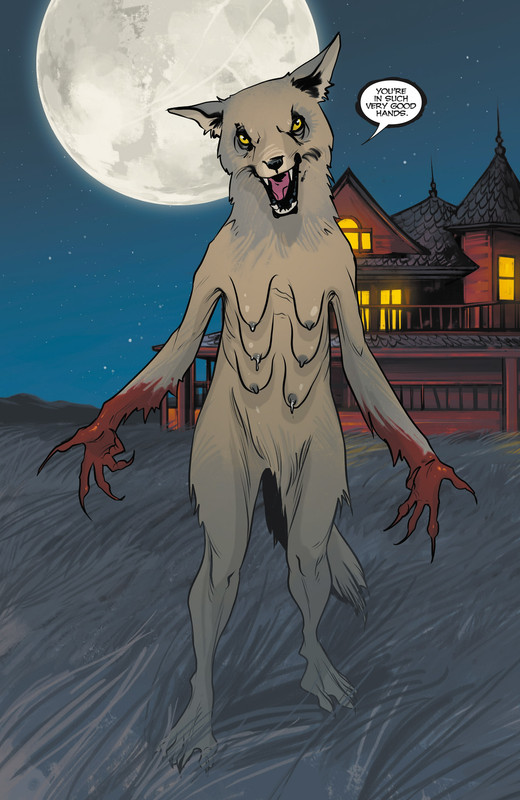 Given the sensitive nature of why we're on Pervious in the first place I didn't expect to see Hazel's younger brother, Kurti, who died in utero at the end of the last Volume. However, due to some amazing and apparently quite dangerous magic called Forecasting, Alana, Marko and Hazel all get to interact with who he could have been. It's beautiful but it's also heartbreaking. This scene pretty much broke me.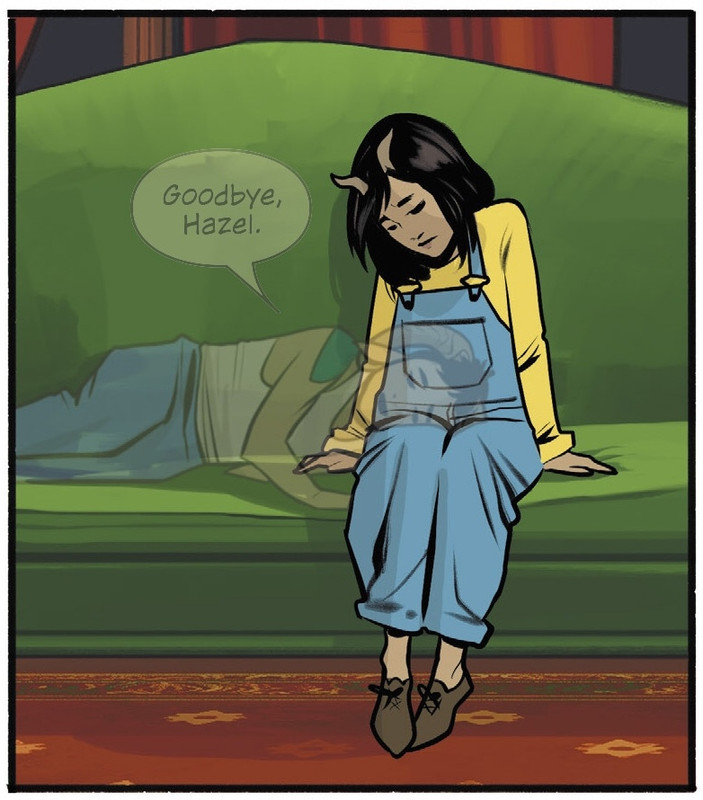 In a flashback of The Will's childhood we meet his Uncle Steve, A.K.A. The Letter, and his chameleon sidekick. It's also pretty clear now why The Will and his sister became Freelancers.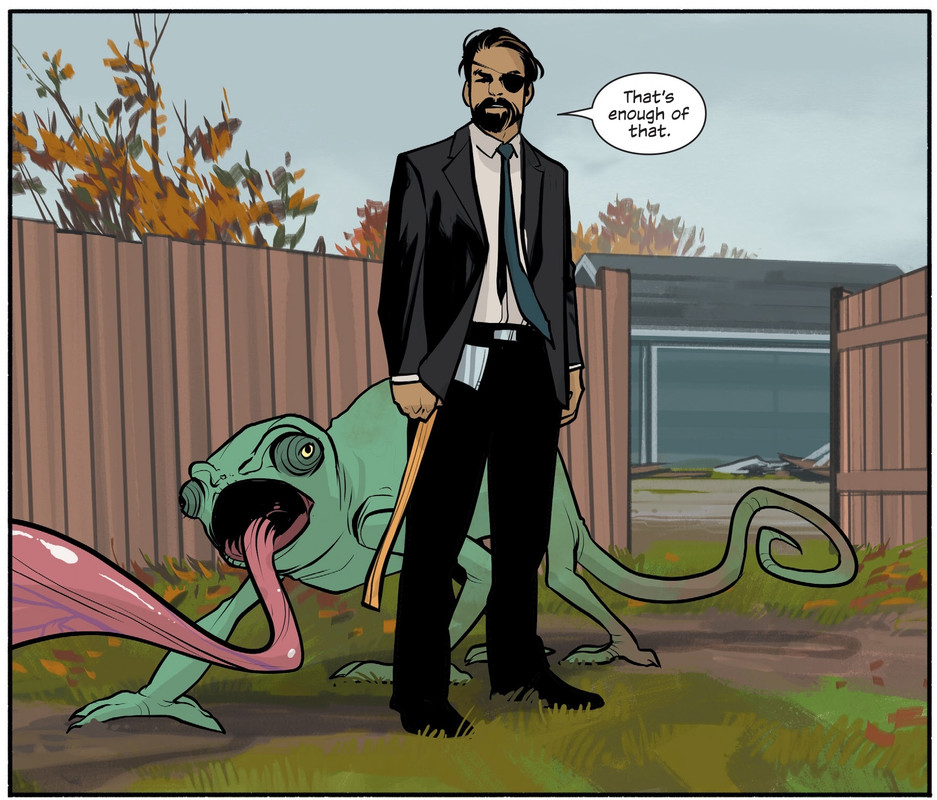 Speaking of The Will, he initially met the person I now love to hate more than anyone else right now during the previous Volume. I now know this woman as Ianthe and while I despise her, I will say this for her; this woman travels in style!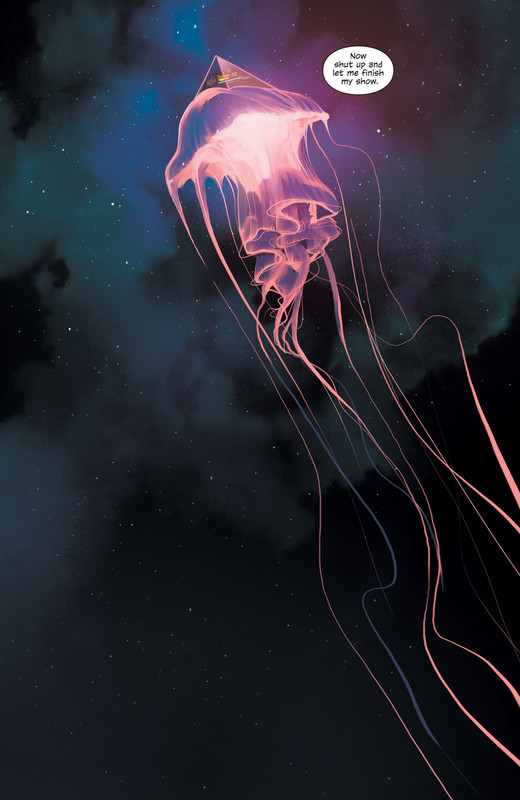 After not seeing any of them in the previous Volume we learn that Upsher and Doff have met up with Ghüs, Squire and Friendo. They're in the vicinity of a Dread Naught, which could potentially help nourish them and keep Friendo off the menu. If only Dread Naughts weren't invisible until the day they die. Except, robots can see their insides regardless because … robot, I guess.
I love that D. Oswald Heist's books and quotes keep popping up in this series. Between those and The Will's drug induced hallucinations I get to see characters I thought I'd never see again. It reminds me of Chris Carter saying that no one ever really dies on The X-Files and gives me hope that I may be fortunate enough to get a glimpse of some of my favourite departed Saga characters. That means you, Izabel and the original Kurti.
The illustrations are extraordinary in this series. They manage to go from breathtakingly beautiful to carnage and back again seamlessly. One of the main reasons I'm so chained emotionally, for better or worse, to so many of Saga's characters is because I've seen their strengths, vulnerabilities and traumas written all over their faces or whatever they have instead.
I love the small details that allude to previous Volumes; at the end of this Volume Hazel is wearing the bracelet that Jabarah gave to Alana in Volume 7 and I couldn't decide if I needed to smile, cry or both when I noticed this. Jabarah gave this to Alana during her pregnancy with Hazel's brother. In Jabarah's culture it's worn until the day the child is born. 😢
Despite all of the trauma I've witnessed while reading this series I always find moments of hope in the darkest times

and when even hope feels like a dream, at least there's plenty of cute smooshed in between the pain.

And when I think I've seen every creature this galaxy has to offer I turn the page to find this!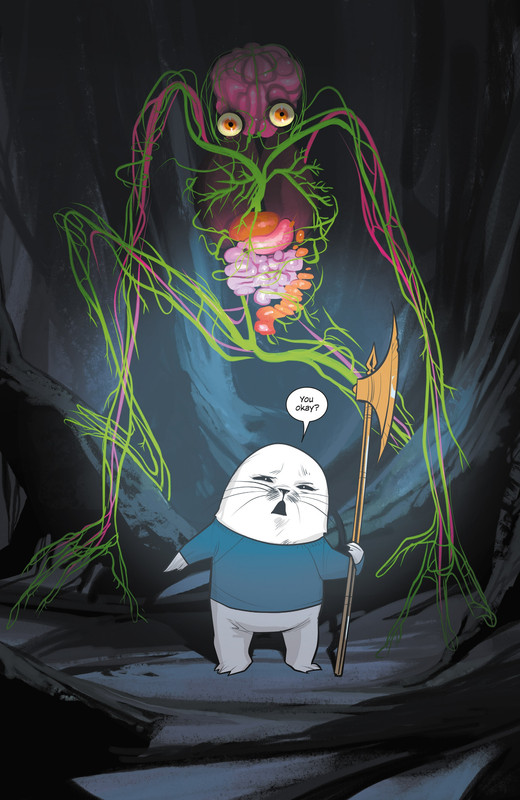 I adore this series!!!
Content warnings include continued graphic sexual content and violence, miscarriage, late term abortion and a dead dog made into a rug, discussion about suicide, child abuse and torture.
Once Upon a Blurb
After the traumatic events of the War for Phang, Hazel, her parents, and their surviving companions embark on a life-changing adventure at the westernmost edge of the universe.
Collects Saga 43-48.