Illustrations – April Lee
Godfrey, the son of peasant farmers, is distracted from his chores by the Book of Beasts, which an artist is working on for the lady of the castle. As he pages through the book he imagines the adventures of a "mighty hero, a bold knight … why, Sir Godfrey the Glorious, of course!"
While Godfrey goes about his chores he tells the animals about Sir Godfrey's adventures, unaware of the chaos that begins to unfold as he names each of the beasties in the book.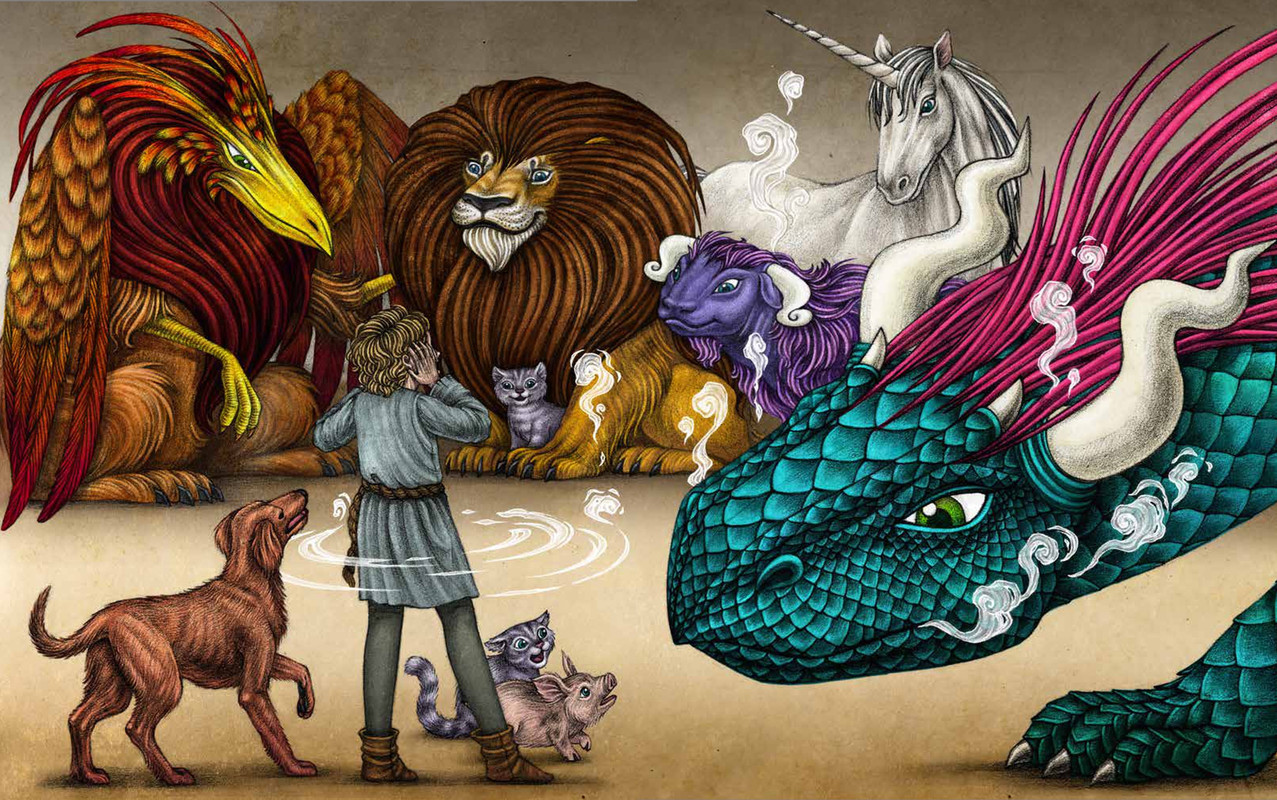 I knew I needed to read this book solely because of April Lee's incredible illustration of the dragon on the front cover. Over the past couple of months I've read this book at least four times but each time I finished reading I couldn't decide what I wanted to say about it. While I am in awe of the detailed drawings of all of the beasties and know I would have been drawn to the colours of the griffin, bonnacon and dragon as a child, I don't think child me would have really enjoyed this book.
I found the details at the end of the story about life in an English castle and the different beasts interesting but am certain I would have bypassed this information if I'd read this book as a child as my interest in history and mythology didn't make themselves known until I was an adult. I was distracted by the text within the scrolls, which didn't seem necessary as the illustrations clearly told those components of the story.
This book was inspired by Book of Beasts: The Bestiary in the Medieval World, an exhibition at the J. Paul Getty Museum in Los Angeles.
Thank you so much to NetGalley and Getty Publications for the opportunity to read this book.
Once Upon a Blurb
Godfrey, a peasant boy who works for the lord and lady of the castle, finds a bestiary, or illustrated book of beasts, on the way to do his chores one morning. He begins inventing his own story, placing "Sir Godfrey" at the center of numerous heroic deeds.
Sir Godfrey battles a lion, tames a unicorn, defeats a griffin, conquers a bonnacon, and triumphs over a dragon. Godfrey does not realise that each time he says the name of an animal, it magically emerges from the book, causing mayhem and inadvertently accomplishing his chores. The laughs pile up and the tension mounts: When will Godfrey realise that all this outrageous stuff is going on?
This book also contains engaging backmatter with information on life in the Middle Ages and a mini-bestiary drawn from original 13th-century manuscripts. Don't Let the Beasties Escape This Book! is a humorous introduction to the medieval world.