Illustrations – Sana Takeda
Spoilers Ahead!
If my rambling review after my reread of Volume 1 didn't convince you that I finally understand what's so amazing about Monstress, then this may. The first thing I did after I finished reading Volume 2 was to buy the signed B&N exclusive edition of Monstress Book One!
A Note About Spoilers: I can't write this review without including some information about what happens in this Volume. I've tried to stay away from spoilery bits but our definitions of what constitutes spoilers may differ, so please read on with caution if you haven't read this Volume yet.
Maika, Kippa and Ren begin this part of their story in Thyria, where Maika's mother's obsession with the Shaman-Empress is evident all over the home Maika barely remembers from her life before the desert. It is here that Kippa and Maika find a bone key, which they soon learn is from the Isle of Bones. They also still have the photograph and piece of an ancient mask Maika took when she escaped the Cumaean stronghold.
The unlikely trio soon board a pirate ship destined for the Isle of Bones, although Maika doesn't know who she can trust. Before they leave, Kippa learns to drown swim and her instructor is perfect!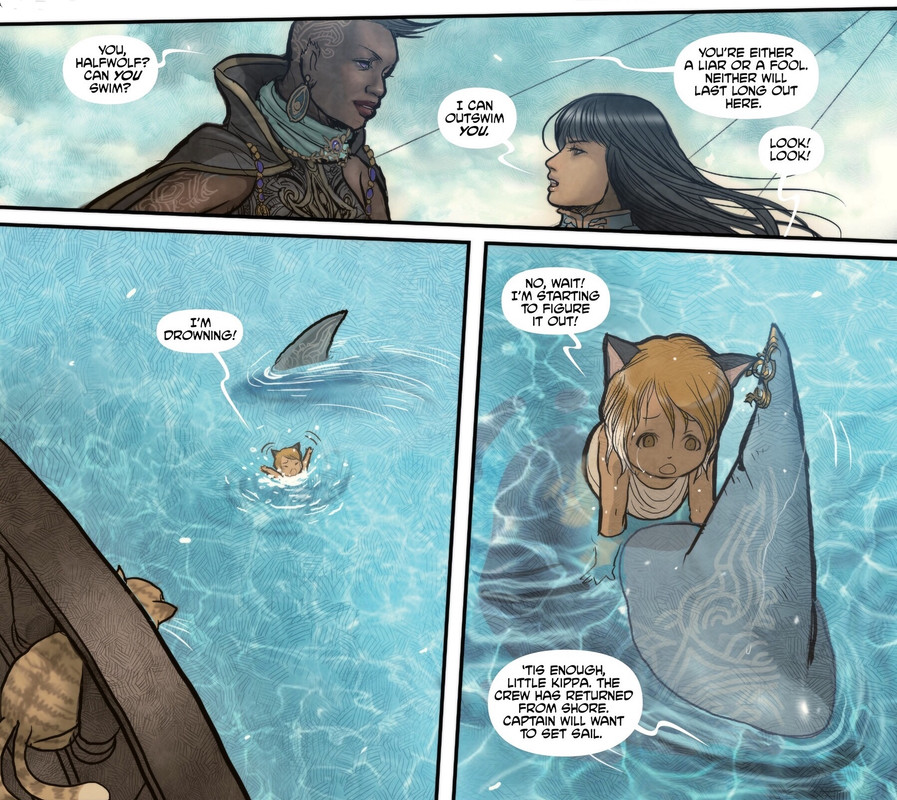 The Monstrum within Maika awakens during their voyage, hungry as usual. The pirate ship can only take them so far though and eventually it's up to Maika, Kippa and Ren to try to make it through the mists surrounding the island. This is not creepy at all.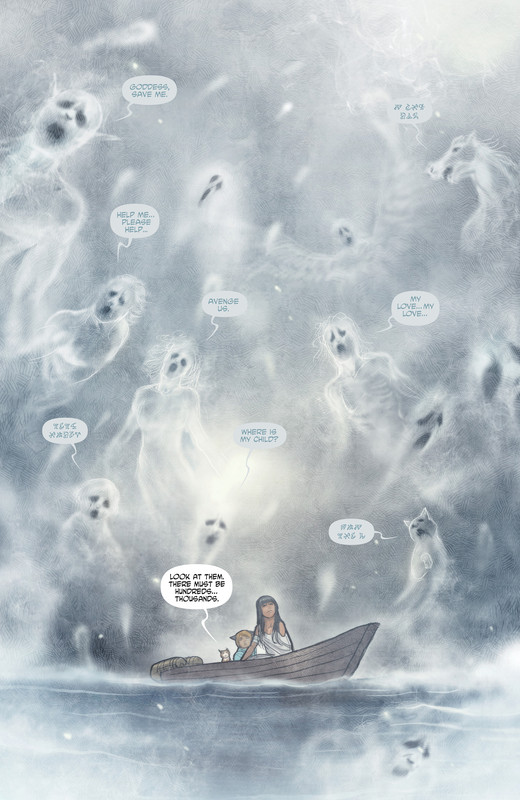 Nope, not one little bit. Eventually they make it to the Isle of Bones,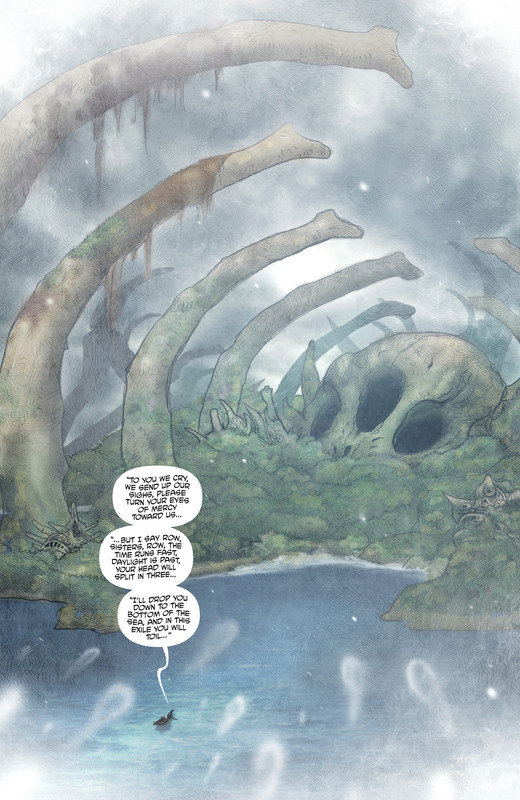 whose name is quite appropriate, I think. But because life wasn't mean to be easy, they find out that they're not alone.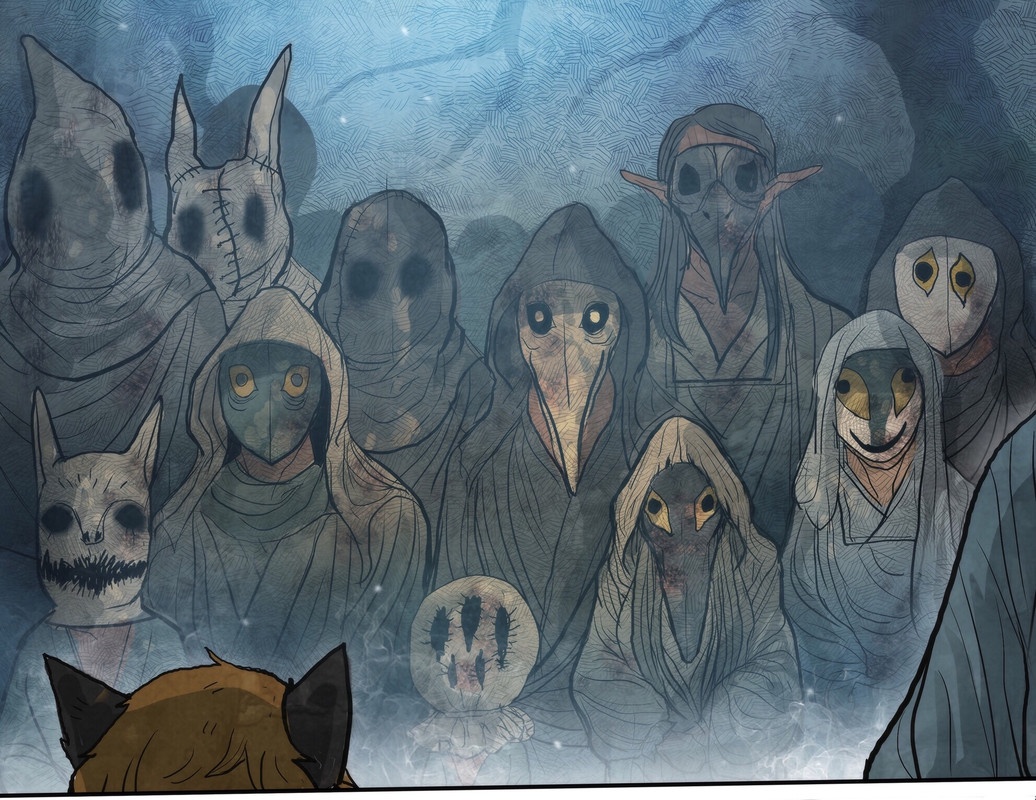 It is here that some of the big questions I've had since the beginning are answered. We learn some more about Maika, her mother and her Monstrum, and of course the Volume ends on the edge of some cliffs, but the joke's on you, cliffhangers! I have Volume 3 in my hands so I'm going to glide/fall off these cliffs quicker than you can say, "it's time to hug Kippa because she's just so darn adorable!"
I loved Seizi, Maika's Goddess-Father, and I've decided I need someone to make a range of Monstress clothing because I desperately need some of Maika's outfits in my wardrobe.
While I'm much more confident I know what's happening in this Volume than I was after first reading Volume 1, I'm certain that an eventual reread will make me aware of further details in the story and illustrations.
I'm really enjoying figuring out who's who and whether they're going to help or hinder Maika as the story continues. While I was overwhelmed by the influx of characters I needed to get my head around in the first Volume I'm now looking forward to meeting some more. I'm loving the mythology and think this too will be clearer after a reread.
I only started reading graphic novels fairly recently and so far I've loved the intricacies of the storylines and the jaw dropping illustrations. It makes me wonder what other awesomeness I've been missing out on!
Once Upon a Blurb
Maika Halfwolf is on the run from a coalition of forces determined to control or destroy the powerful Monstrum that lives beneath her skin. But Maika still has a mission of her own: to discover the secrets of her late mother, Moriko.
In this second volume of Monstress, collecting issues 7-12, Maika's quest takes her to the pirate-controlled city of Thyria and across the sea to the mysterious Isle of Bones. It is a journey that will force Maika to reevaluate her past, present, and future, and contemplate whether there's anyone, or anything, she can truly trust – including her own body.