When I read this graphic novel a couple of months ago I didn't find it anywhere near as funny as I'd expected. I thought the first two Laser Moose and Rabbit Boy adventures were very giggle-worthy when I discovered them two years ago so naturally I needed to reread them. Now that I've reintroduced myself to my favourite moose that shoots lasers out of his eyes and his sidekick rabbit I wanted to reread Time Trout.
In The Traveler we meet, well, the traveler. Obviously! They're human and pretty happy to have succeeded in their mission to travel back in time.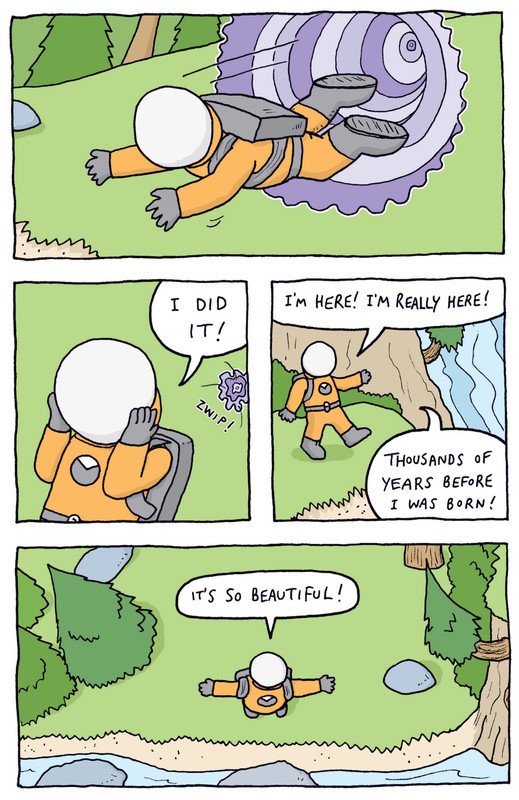 Their awe at the beauty of their surroundings quickly morphs into panic as they fall into the water, losing their futuristic flux capacitor in the process. Naturally a trout swallows this time travel device and almost immediately travels through time.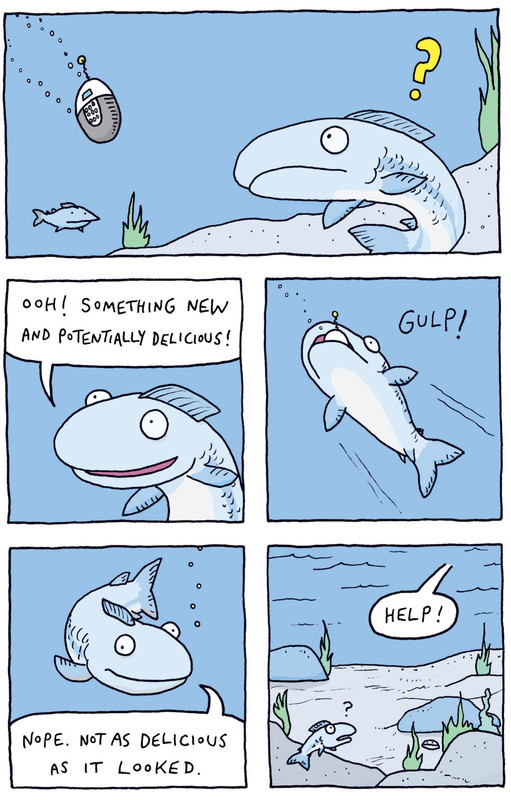 If future guy had bothered to watch Back to the Future they'd know that Deloreans are the only way to time travel (unless you have a spare train laying around) and have the advantage of being too large for anyone to accidentally ingest.
Anyway, our trout finds himself in the past, just before the time he became an important part of a disco ball chain reaction. This chain reaction was possibly caused by an evil chickadee, if in fact he is as evil as Laser Moose suspects.
Meanwhile, Laser Moose and Rabbit Boy are taking Frank to Doc because Laser Moose zaps his leg off (again!) before the story officially began. Poor Frank! For the first time in the series we actually get to meet the doctor who sews all of Frank's accidentally amputated limbs back on.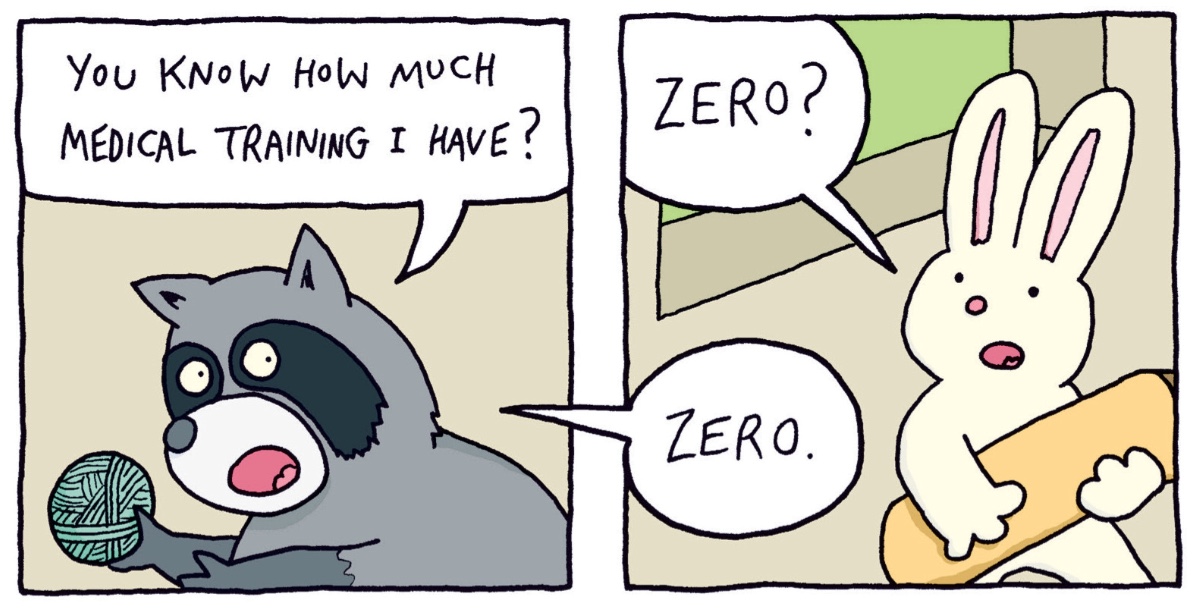 On another one of the trout's time jumps he accidentally brings Aquabear with him to the present. Eventually Laser Moose and Rabbit Boy join the trout in the future, just in time to witness the aliens from The Invasion arriving for their return visit. They've brought some friends with them this time. Our time travellers come up with a plan to hopefully fix everything that's gone wrong so far and jump back into the time stream.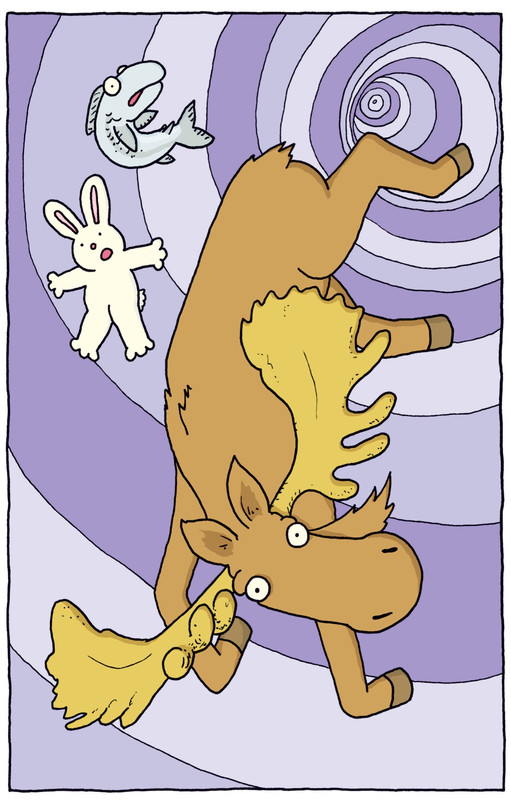 In The Aquabear the plan doesn't go how it's supposed to but it does result in Laser Moose and Rabbit Boy meeting Frank for the first time. Again. Poor Frank! Off to Doc we go! Despite everything that keeps going wrong the trout decides he likes this time travel business and wants to keep doing it, which leads us to The Falls where we almost get to witness Laser Moose's origin story. Things go very wrong again before possibly going somewhere in the vicinity of right. During the course of events Laser Moose meets a new friend, Gonk the dinosaur,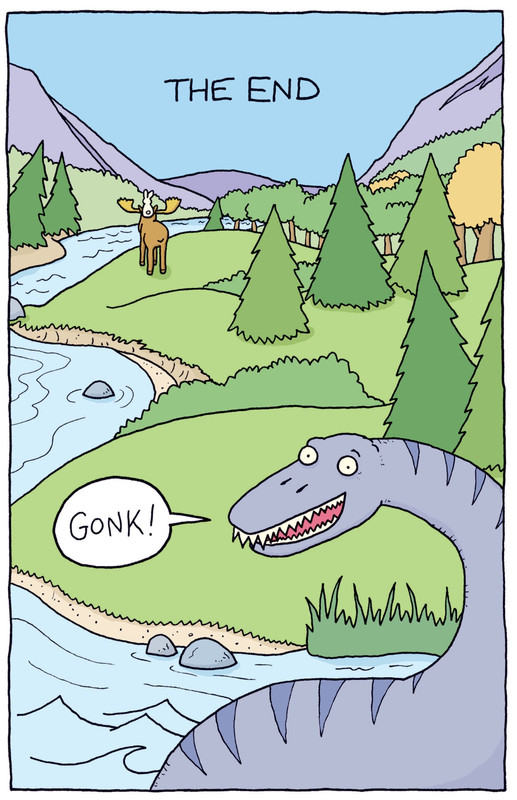 who I hope will make their way into future adventures.
I definitely enjoyed Time Trout much more during my reread. Without the necessary context provided by the two previous graphic novels, repeated jokes and background details don't have any significance. I also appreciated the cameos made by the eagle, the evil chickadee, Mechasquirrel and Gus in this graphic novel more the second time around. Disco Fever remains my favourite read of the series.
Thank you so much to NetGalley and Andrews McMeel Publishing for the opportunity to read this graphic novel.
Once Upon a Blurb
Laser Moose and Rabbit Boy return and just in time to save the day!
A time-traveling fish is causing trouble for Laser Moose and Rabbit Boy in the past, present, and future. When the well-meaning Trout inadvertently changes the forest's history, Laser Moose and Rabbit Boy need to set things right, with a little help from a raccoon doctor and a newly three-legged Frank the Deer. Along the way, they confront old enemies, new enemies, future threats, and Laser Moose's own mysterious past. Get ready for an action thrill ride of time-bending fun!