Illustrations – Kelly Collier
Sloth and Squirrel are in a bit of a pickle. 677.5 jars of pickles, to be exact.
They decide to work as pickle packers to earn the money to buy the bike they want but things don't quite go to plan. Teamwork can be a bit tricky when one member of your team is super speedy and the other is s-l-o-w.
This is a cute picture book with two very different friends. This story shows our new friends working together towards a common goal, using initiative and thinking outside the box to solve a problem.
The illustrations highlight how fast Squirrel is, how slow Sloth is and how expressive both friends are.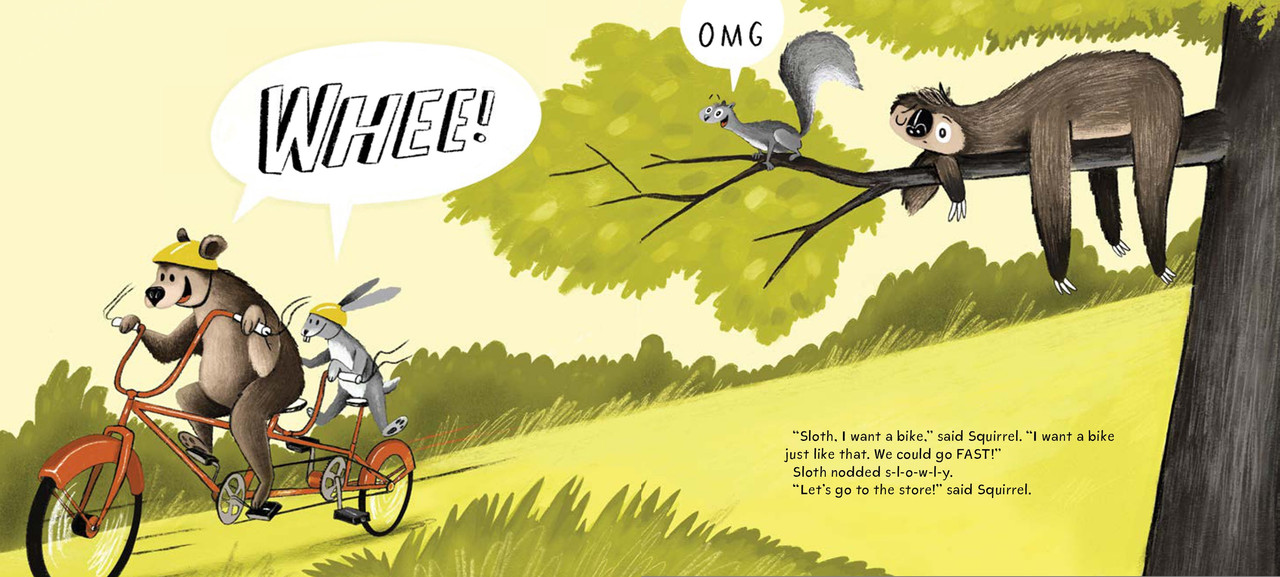 Thank you so much to NetGalley and Kids Can Press for the opportunity to read this book.
Once Upon a Blurb
A speedy squirrel and a sleepy sloth try to get the job done in this funny, heartwarming tale of two loveable, but unlikely, friends.Though Sloth and Squirrel are good friends, they have different ways of doing things – and different speeds of doing them. So, when Squirrel gets them jobs as pickle packers to earn money for a new bike, things don't go according to plan. It seems that the contrasting skill sets of a fast-as-lightening squirrel and a slow-as-molasses sloth can make for a mess of an outcome, and before long, the friends are shown the pickle factory's door, along with the 677 1/2 jars of pickles they packed incorrectly! Now the pair are bicycle-less, with only pickles to show for themselves. Or so they think – until the resourceful pair come up with an ingenious plan!
This delightful story from Cathy Ballou Mealey is a celebration of friendships of all kinds and a testament to ingenuity and hard work. Packed with funny details that aren't in the text, Kelly Collier's engaging illustrations are full of personality and silly, emotionally expressive humour. Together they create a hilarious picture book that's perfect for a fun and lively read-aloud. At the same time, the positive themes in the book highlight a growth mindset and character education lessons on teamwork, perseverance and initiative.