I absolutely adore Renée Treml's Sherlock Bones books so I was keen to get my hands on the first two books in her new series. I was not disappointed. The engaging characters, the gorgeous illustrations, the accidental learning and the humour I loved in Sherlock Bones were all here, just for a younger audience.
We're introduced to Ollie the owl and Bea the bunny. They're destined to become best friends. We also meet CeeCee the otter, Pedro the chameleon, Sera the deer and Simon the squirrel, who each have their own superpower.
I adored Ollie and Bea straight away, mostly because they're both struggling with insecurities. Ollie, unlike other owls, has poor eyesight and needs to wear glasses. Bea's feet, which are so long they should probably come with a trip hazard warning, make her feel self conscious.
Together, our new friends try to find a way to turn what they perceive as their weaknesses into superpowers.
My favourite piece of accidental learning in this book was "an owl can hear ten times better than a human".
Some of the humour in this book comes from the puns. When Bea gets angry, she's a "hot cross bunny".
The illustrations are "otter-ly awesome!" Bonus points from me because they're in colour.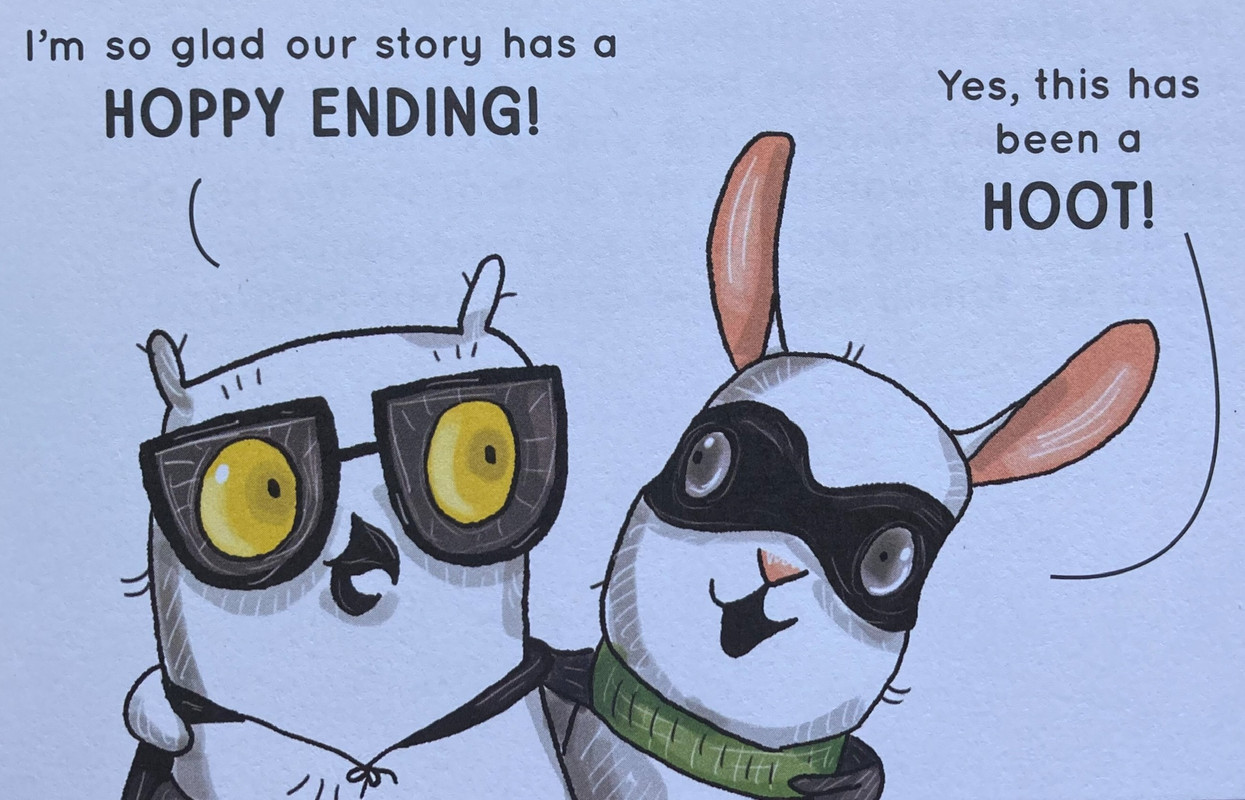 The target audience are kidlets aged from 4 to 7 years. It's the kind of book I'd be happy to read aloud repeatedly. Emerging bookworms should manage this book well as there aren't many words on each page. There are a couple of Spanish words towards the end of the book but readers don't need to know Spanish as the meanings are explained in English.
I'm looking forward to the next book, Squeal on Wheels, which features rollerskating animals. What's not to love?!
Thank you so much to Allen & Unwin for the opportunity to read this book.
Once Upon a Blurb
Ollie and Bea will delight young readers in Book 1 of this super sweet and funny full-colour graphic novel series that celebrates friendship and the differences that make us special.
Come with Ollie and Bea on a HARE-raising adventure with a HOPPY ending!
Ollie is an owl who wears glasses. And Bea is a bunny with very big feet. They don't know it yet, but they are about to be best friends. Can they help each other to find their OTTER-LY awesome inner superhero?
Join Ollie and Bea in this charming, funny, cute story about the joys of making friends and having fun. The perfect book for young readers who love to laugh.