Just when I didn't think this series could get any bat-ter…
Ollie the owl is looking for Bea the bunny, but can't find her anywhere. Hanging around, though, is Kimmee, a bat who loves jokes.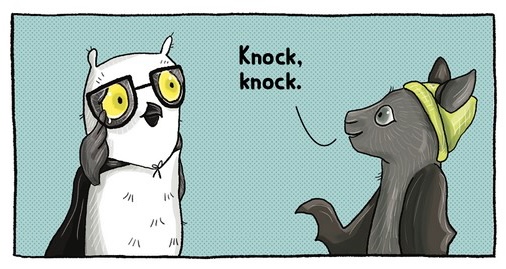 Ollie and Kimmee have a "WHEELY fun" time together. They even join forces to tackle a mysterious mystery.
When the two new friends finally hoppen upon Bea, Bea isn't very hoppy to see them. Bea's not convinced the Super Team has room for one more, especially someone who clearly already has a bond with her best friend.
This series focuses on friendship. The friends encourage one another, laugh and have fun together (with plenty of knock knock jokes and puns), and support each other to face and solve problems.
It can be scary for kids when one of their friends makes a new friend. This book acknowledges that while also inviting them to be open to making new friends themselves.
Kimmee is a great new addition to the Super Team, which also includes CeeCee the otter, Pedro the chameleon, Sera the deer and Simon the squirrel.
As I've come to expect from Renée Treml's books, the illustrations are Bea-utiful. The characters are expressive and Kimmee looks absolutely adorable in their beanie.
This was a bat-tastic read. You bat-cha Bea-lieve owl be hanging out for the next book.
Thank you so much to Allen & Unwin for the opportunity to read this book.
Once Upon a Blurb
Some-BUNNY is missing! HOO could it Bea?
Ollie makes a BAT-tastic new friend, but Bea's not very HOPPY about it. Can Ollie show Bea that there's OWLways room for one more friend?
Join Ollie and Bea in their joyful playtime adventures. The perfect book for young readers who love to laugh.