This is almost unheard of for me. I loved the sequel even more than the first book in this series.
Ollie, the owl who needs to wear glasses, and Bea, the bunny with the kangaroo sized feet, return. They're joined by the friends they met in the first book: CeeCee the otter, Pedro the chameleon, Sera the deer and Simon the squirrel.
Having already figured out what all of their superpowers are, the friends are ready to have some fun. On the agenda for today is rollerskating. Except one of the friends keeps making excuses. The thought of skating is making Bea anxious. She's worried she'll look silly.
Thankfully her friends come up with the perfect solution, one that makes Bea feel comfortable skating so she can have fun too.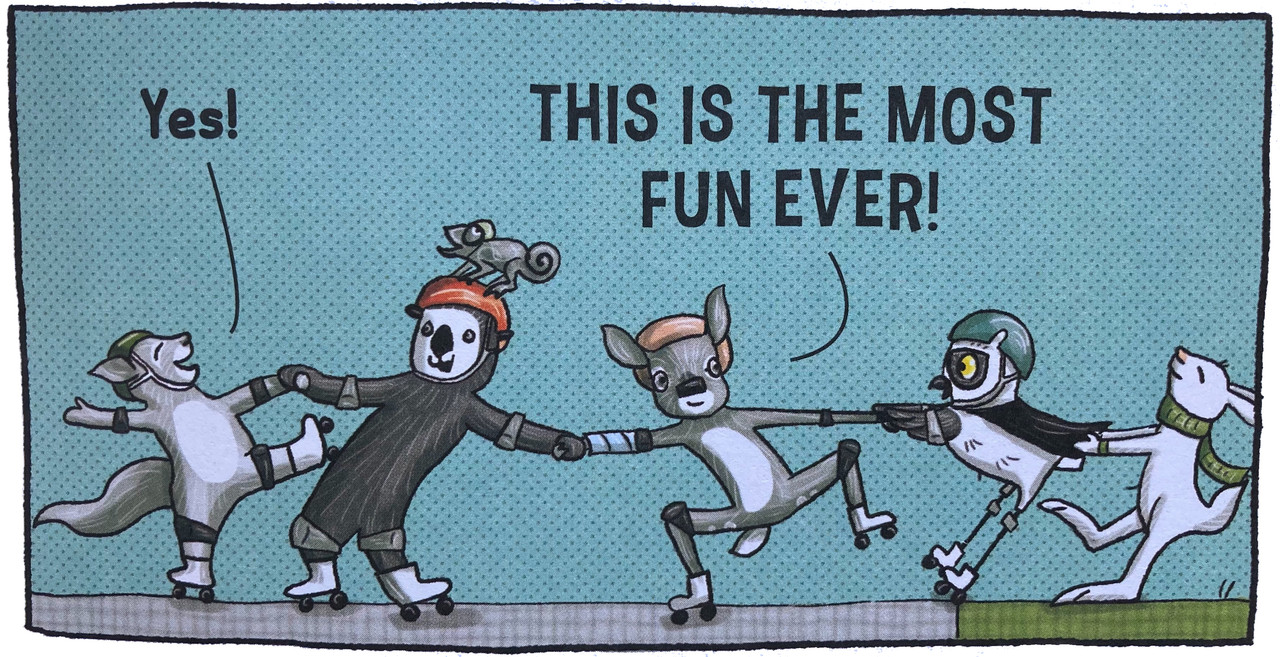 Puns abound in this book as well. My favourite was Ollie's "Owl be back!" I know I'm not the only one to read that in Arnold Schwarzenegger's voice.
The colourful illustrations, which I appreciated in the first book, really make the details come alive in this one. Be on the lookout for Sera the deer; her outfit is brilliant!
I love the focus on supportive friendships in this series. They highlight how integral friendships can be in building self confidence and overcoming obstacles.
This book deserves all of the carrots! 🥕🥕🥕🥕🥕
I can't wait to see what other adventures are in store for Ollie, Bea and their friends. I'm already dreaming up a crossover where Ollie and Bea visit the State Natural History Museum and team up with Sherlock Bones and Watts to solve a mystery.
Thank you so much to Allen & Unwin for the opportunity to read this book.
Once Upon a Blurb
Best friends Ollie and Bea continue to delight young readers in Book 2 of this super sweet and funny full-colour graphic novel series that celebrates friendship and the differences that make us special.
Q. What's the hardest part of learning to skate?
A. THE GROUND!
Ollie is having a HOOT on his rollerskates, but Bea is full of excuses for why she can't join in. Will she realise that sometimes it's okay to look silly, and that real friends don't CARROT all if you have very big feet?
Ollie and Bea continue to charm in this super-cute series about the joys of friends and fun and lots of puns. The perfect book for young readers who love to laugh.