Ollie the owl is too old to play with stuffed toys. Well, that's what he'd like to Bea-lieve anyway. Then he meets Bea the bunny's "bestest, most favourite-est stuffed toy", Duckie.
Bea hops off home to get her mask so they can play superheroes, leaving Duckie in Ollie's capable hands. Except Ollie accidentally sorta kinda takes playing with stuffed ducks to a whole new level.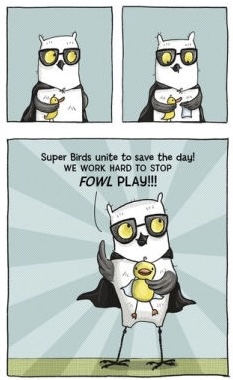 Now there's a mystery to solve but if the Super Team are going to quack this case, Ollie is going to have to own up to what really happened.
Ollie and Bea are joined by the other Super Team members, CeeCee the otter, Pedro the chameleon (who speaks Spanish), Sera the deer and Simon the squirrel, as they work to solve this case.
This is a fun series that majors on friendship. Each story has an age appropriate message about being a good friend.
In this story, Ollie makes a mistake, which he initially tries to hide from his friends. When he finally tells them the truth, his friends all work together to help him fix the problem. Teamwork prevails, Ollie's friends don't hold his mistake against him and there's a hoppy ending.
Puns and jokes abound on this series and the characters are so loveable. I particularly enjoy the illustrations, which clearly show the emotions of the characters, and the colours used. 
I would have adored this series as a kid. Adult me is just as impressed. Of course, I had to reread the first two books before beginning this one and they were just as good as the first time I read them.
Bring on the bat-tastic book 4!
Thank you so much to Allen & Unwin for the opportunity to read this book.
Once Upon a Blurb
Ollie has a mystery to solve, and Bea suspects FOWL play!
Ollie is OWL grown up and doesn't play with stuffed toys – but then where did Bea's toy go? It might take a DUCKtective to help QUACK this case!
Join Ollie and Bea and their delightful friends. The perfect book for young readers who love to laugh.