Illustrations – James Hart
Amber tries to go incognito in this book. Irene decides it's time for Amber to get away from Agent Ferris and the rest of the National Service goons, so they're on their way to Kingston City in a campervan that Irene conveniently had stashed away.
Of course, incognito and Amber (now Angela) don't mix, especially when E-Boy shows up for an unadvertised crossover. It doesn't help that there's two baddies intent on doing bad stuff. It seems that trouble just follows Amber, no matter how well she's trying to blend in at her new school.
Meanwhile, Reggie, Amber's brother is still with the National Service, but with a new purpose; he wants to find out the truth about his family. Dastardly Ferris is a step ahead of him, though, having done some redaction work on Reggie's file.
While it was nice to see Amber trying out normal life for the first time since becoming Skydragon, I haven't read the E-Boy series (yet) so can't really comment on his inclusion in this book. It seems like he is already acquainted with one of the story's Big Bads. I wondered if what's happening in his series at the moment would allow him to take some time off to lend a hand to Amber or maybe Amber is actually on his turf.
Note to self: make sure you're up to date in all series involved in a crossover so you don't have to wonder about things that are probably irrelevant.
Now, I know you're probably sick of hearing this from me but the details in the illustrations (which I love, by the way) didn't always line up with the details of the descriptions in the text.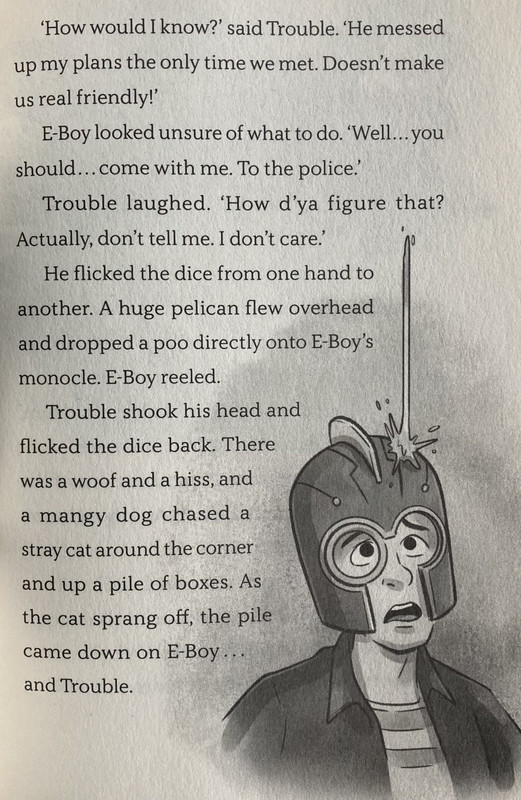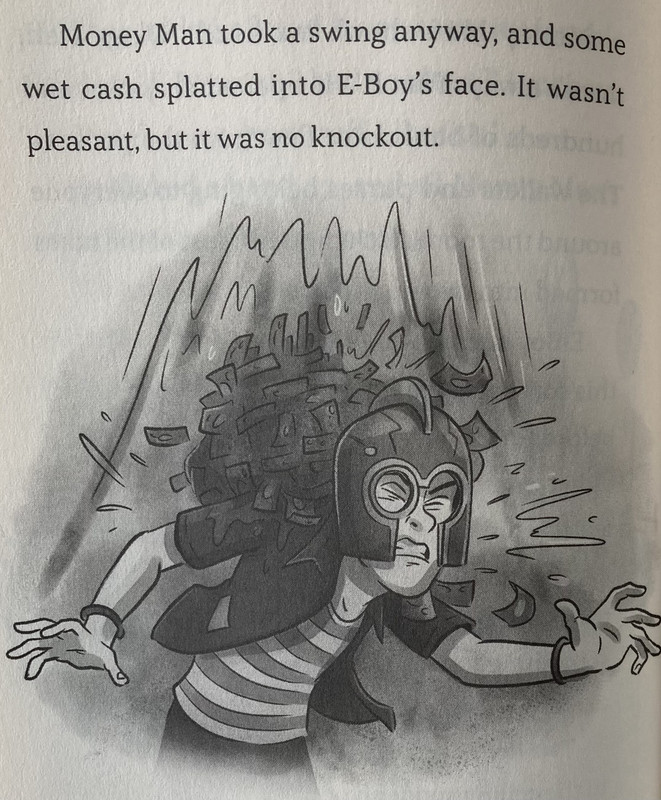 On a completely unrelated topic: I think I've found the perfect job for me – scrutineer of children's book illustrations. That's got to be a job, right? I'll read every kid's book ever and be paid the big bucks to make sure the illustrations and text tell the same story. So, who's hiring? 😜
I didn't realise I'd gotten a little battle weary during the first two books in this series. They were pretty much non stop action, which I really enjoy, but it was nice to see Amber actually having the opportunity to make new friends and have someone take care of her for a change. That's not to say that I'm not looking forward to Agent Ferris meeting an appropriately dastardly end. Comeuppance is definitely on the cards for him at some point…
Once Upon a Blurb
Amber and her insects are back in a thrilling adventure with old friends and new villains!
The agents fled as the fire took hold of the wooden cabin and any evidence of Skydragon's identity burned to ashes.
Sounds of crackling flames and cracking wood filled the forest, followed by shouts of 'Me? No way, you tell him!' as the agents argued over who was going to call their boss to explain how Skydragon had gotten away from them … again.
Amber is tired of being hunted, and sick of being afraid. Maybe she can escape her destiny and live a normal life, like a normal girl. 
But two new villains are on the prowl, and when other people's lives are on the line, will Amber hide … or will she rise?