Illustrations – Sophie Blackall
How to make me fall in love with your book in 5 easy steps
Step 1: Begin with a quote that makes me cheer on the girl before I've even met her.
It is written in the Chronicles of Sorrowing that one day there will come a child who will unseat a king.

The prophecy states that this child will be a girl.

Because of this, the prophecy has long been ignored.
Step 2: Make your main character someone who loves to read, who is imaginative and brave and resilient and adorable.
"There are twenty-six letters in all," she said. "You will learn each of them, and once you know them, you can mix them as you will, and then use them to form the words of the world and the things of the world. You can write of everything – what is and what was and what might yet be."
Step 3: Introduce me to characters who will live in my heart long after I finish reading. People like…
* A monk who sees beauty everywhere and whose words are true
* A boy with a brilliant memory who talks to bees
* A man who remembers how wonderful it is to laugh.
Step 4: Impart wisdom and, in doing so, make me highlight an absurd amount of sentences.
He said, "The world is not always a kind place."

"No," she agreed.

"But there are sweet things to be had," he said.
"Nothing is more terrifying to evil than joy."
She felt as though the darkness were trying to swallow her up.

She must not allow that to happen. She must stay herself.
To be brave is to not turn away.

To be brave is to go forward.

To be brave is to love.
Seemingly, the heart could hold an untold amount of things – letters and people and goats and bees.

Seemingly, there was no limit to what it could contain.
We shall all, in the end,

be led to where we belong.

We shall all, in the end,

find our way home.
Step 5: Include gorgeous illustrations.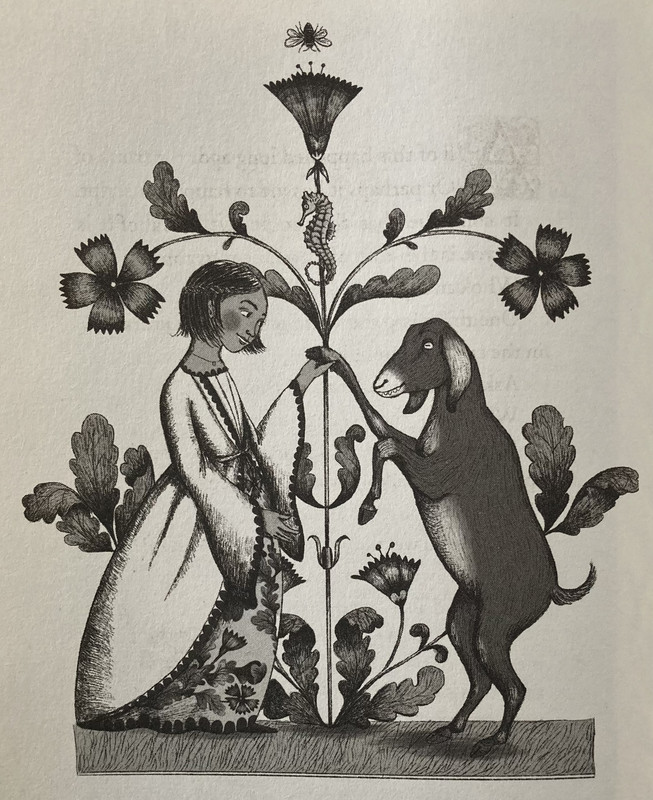 Bonus points if there's a goat called Answelica who has attitude and a very hard head.
"I do believe the best and wisest thing we can do is to follow the goat."
Once Upon a Blurb
We shall all, in the end, be led to where we belong. We shall all, in the end, find our way home.
In a time of war, a mysterious child appears at the monastery of the Order of the Chronicles of Sorrowing. Gentle Brother Edik finds the girl, Beatryce, curled in a stall, wracked with fever, coated in dirt and blood, and holding fast to the ear of Answelica the goat. As the monk nurses Beatryce to health, he uncovers her dangerous secret, one that imperils them all – for the king of the land seeks just such a girl, and Brother Edik, who penned the prophecy himself, knows why.
And so it is that a girl with a head full of stories – powerful tales – within the tale of queens and kings, mermaids and wolves – ventures into a dark wood in search of the castle of one who wishes her dead. But Beatryce knows that, should she lose her way, those who love her – a wild-eyed monk, a man who had once been king, a boy with a terrible sword, and a goat with a head as hard as stone – will never give up searching for her, and to know this is to know everything. With its timeless themes, unforgettable cast, and magical medieval setting, Kate DiCamillo's lyrical tale, paired with resonant black-and-white illustrations by Caldecott Medalist Sophie Blackall, is a true collaboration between masters.