When we join Justin on his wacky Wednesday, he's stranded with his arch-nemesis, Marvin. Marvin adds the arch to nemesis quite well. He's always perfectly put together even when the situation calls for being covered in mud and he doesn't fight fair. It's not beneath him to pull out the dreaded, "I know you are, but what am I?" and he's a "finders keepers" type of person.
Unfortunately, he's also Justin's only company right now, except for the bunch of fins coming closer and closer to their precarious inflatable raft. Wait, did I just say fins? Don't tell me our intrepid accidental adventurers are on the menu!
I'm quite partial to the biggest audience possible witnessing Justin's most embarrassing moments so this wasn't my favourite day of the week so far, but that doesn't mean I didn't enjoy the ride.
There are some Indiana Jones adjacent moments, a chatty parrot and some ghastly, ghostly pirates to contend with. Arr!
While Nan doesn't have much page time today, her crocheting lessons came in handy in an unexpected way.
Keep an eye out for Justin's mermaid impression and a sneak peek of Captain Fluffykins. That cat's pure evil, I tell you.
I absolutely loved the rubber ducky paddle boat, probably in part because it reminded me of the Penguin's mode of transportation.
I need to commission Mia to draw something for me. Here's her unicorn-shark hybrid: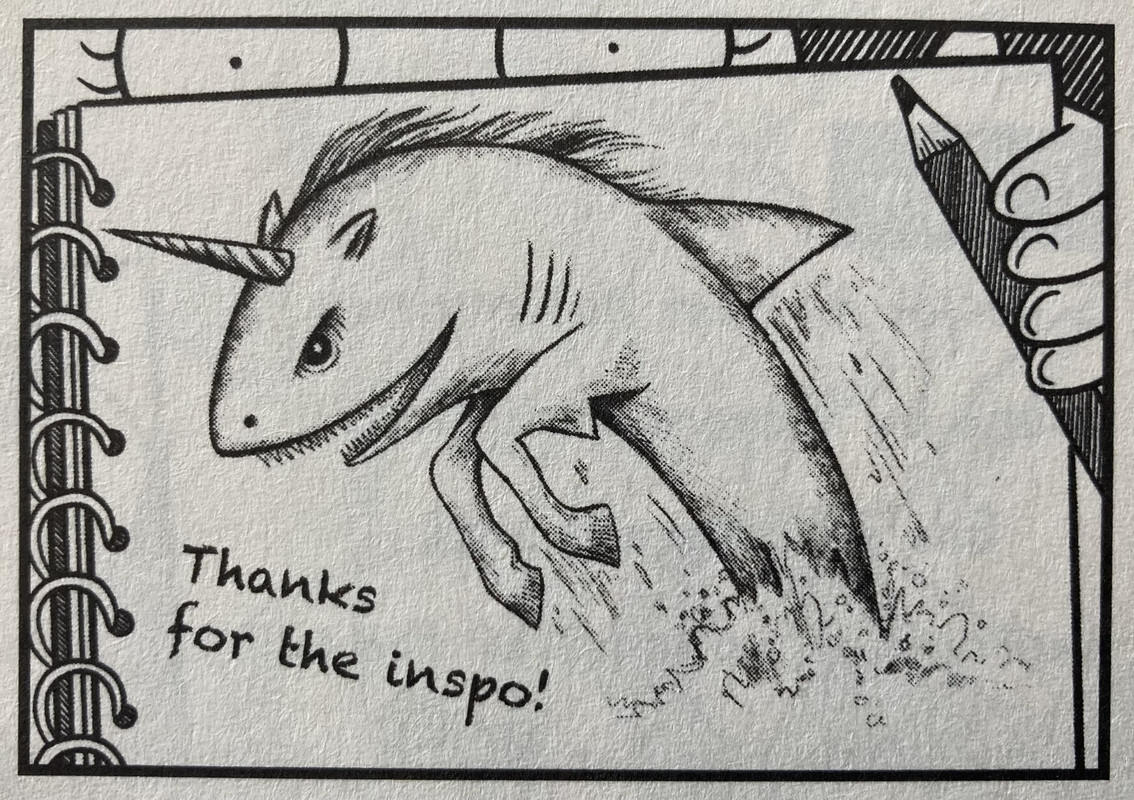 Today's deleted scenes feature goats, cows, ducklings and pandas. While I was quite partial to top hat duckling and flower kid, the cow in a onesie won my heart.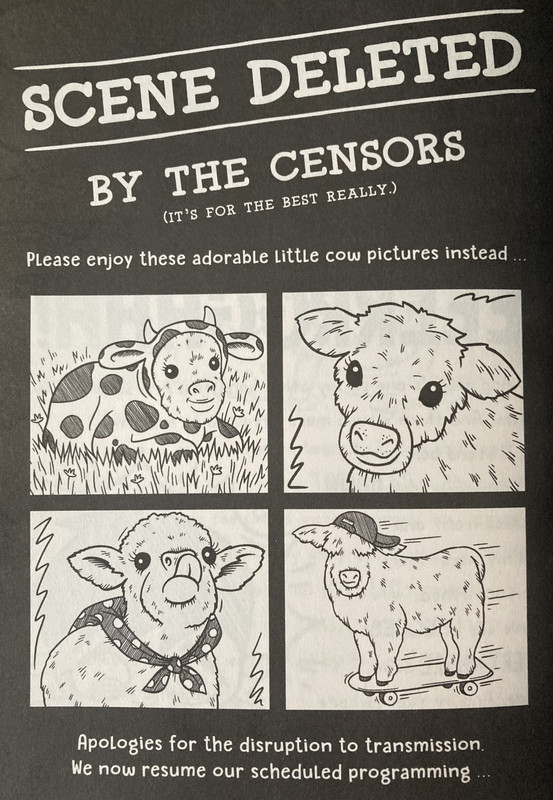 The original Wednesday plan was postponed to Thursday because of our almost stepbrothers' impromptu detour. However, if I know this series like I think I do, the 11:56pm door knock seems to indicate that Thursday's plans will be thwarted. I'm looking forward to finding out how thorny Thursday turns out to be.
Once Upon a Blurb
Have YOU ever had a BAD WEEK?
Justin Chase sure has, and THIS is it!
Monday really socked, Tuesday blew up, but now it's … WEDNESDAY!
His cat is still mysteriously missing. He's an unintentional internet sensation. And right now sharks are circling as he's stranded in a heart-stopping, skin-crawling, jaw-dropping, seriously shocking S.O.S situation with his unbelievably annoying arch-enemy!