Introverts of the world unite! In your home … on your couch or in bed … alone … Just the way we like it!
Debbie Tung has done a brilliant job of turning my biography into a graphic novel. Sure, she got my name wrong and I'm not married to a wonderful extrovert called Jason, but she got everything else spot on so who am I to quibble? Okay, so maybe Quiet Girl in a Noisy World wasn't written with me specifically in mind, but it could have been! Debbie has totally nailed what being an introvert looks and feels like.
In this graphic novel, we follow Debbie through her final year of college, meeting and marrying an extrovert, navigating the workplace and surviving the nightmare of social interactions, often by using her husband as a social shield. From experiencing doubt about who she is and feeling different from the extroverts surrounding her who thrive on small talk, we see Debbie's transformation upon learning there's a word that describes her – introvert. Upon learning more about her tribe, Debbie learns to accept herself as she is and begins to embrace her dreams and passions rather than trying to fit into the extrovert shaped box she's been struggling to fill.
In a world that seems to be filled with extroverts (probably because all of the introverts are at home or in hiding) introverts outside of their natural habitat can be made to feel like they're from another planet when forced to interact with more than one person at a time and from another galaxy if even one of those people are a stranger. A stranger in the Dictionary of Introverts could be defined as 'a person who isn't a family member, partner or closest friend'.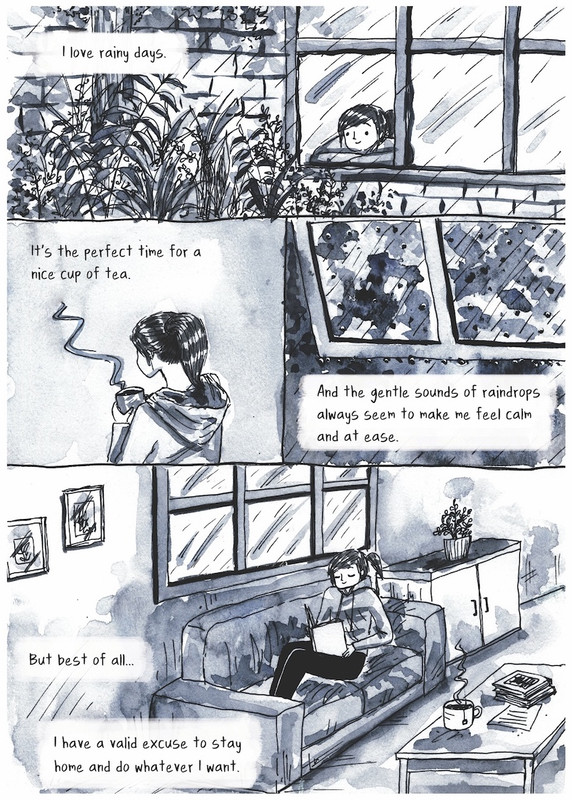 Debbie is a very talented illustrator and captures the worldview of introverts so well that there will be people safely tucked away in their homes quietly murmuring, "Me, too" as they wander with hope through this graphic novel. I loved that you can just as easily enjoy this book in snippets as you can reading from cover to cover. I adored the use of a battery percentage above Debbie's head showing how long she has to go before she needs a recharge. Should extroverts want to discover why we introverts act so weird in social situations (and let's face it, we do!) this is the perfect way to find out because we'll most likely be too shy to tell you face to face.
Through the wonder of internet anonymity, those who have read a couple of my book reviews most likely already know me better than some people who have been in my life for decades. I know the pain of feeling alone in a roomful of people who are happily making small talk and the comfort of not feeling lonely at all when I get to recharge by myself. My fellow introverts and I must have forgotten to register for Small Talk 101.
If you don't know me you could be forgiven for wondering if I was born without a voice box. If you've managed to find your way through the labyrinth and cracked the code at the end to become a trusted friend then you may wonder if I'll ever shut up! I guess that's just one of the many paradoxes of introversion.
Thank you very much to NetGalley and Andrews McMeel Publishing for the opportunity to read this graphic novel. I love it so much and will be rereading it whenever I need to remind myself that being an introvert can be a strength, not a character flaw.
Once Upon a Blurb
Sweet, funny, and quietly poignant, Debbie Tung's comics reveal the ups and downs of coming of age as an introvert.
This illustrated gift book of short comics illuminates author Debbie Tung's experience as an introvert in an extrovert's world. Presented in a loose narrative style that can be read front to back or dipped into at one's leisure, the book spans three years of Debbie's life, from the end of college to the present day. In these early years of adulthood, Debbie slowly but finally discovers there is a name for her lifelong need to be alone: she's an introvert.
The first half of the book traces Debbie's final year in college: socializing with peers, dating, falling in love (with an extrovert!), moving in, getting married, meeting new people, and simply trying to fit in. The second half looks at her life after graduation: finding a job, learning to live with her new husband, trying to understand social obligations when it comes to the in-laws, and navigating office life. Ultimately, Quiet Girl sends a positive, pro-introvert message: our heroine learns to embrace her introversion and finds ways to thrive in the world while fulfilling her need for quiet.