Book nerds rejoice! Debbie Tung doesn't just understand us; she's one of us! Debbie first drew scenes from my life in her debut Quiet Girl in a Noisy World: An Introvert's Story and now she's gained access to the bookish part of me which, let's face it, is pretty much all that's left once you take away the introvert part.
This is my second (but not final) read of this graphic novel and once again Debbie's nailed it. Her illustrations perfectly capture the bliss of escaping into a book, the allure of a book sale, the horror of finishing a book and knowing you have to wait a whole year before you can dive into the sequel, and the special kind of magic you experience when your book order arrives. Debbie explores the bookish nightmare of a favourite book being massacred by its film, the horror of price sticker residue and the devastation you feel when someone ruins the end of the book you're reading.
Debbie talks about how we read, where we read, why we read, and I don't think I've ever felt so understood.
Every turn of the page resulted in validation of my bookish experiences.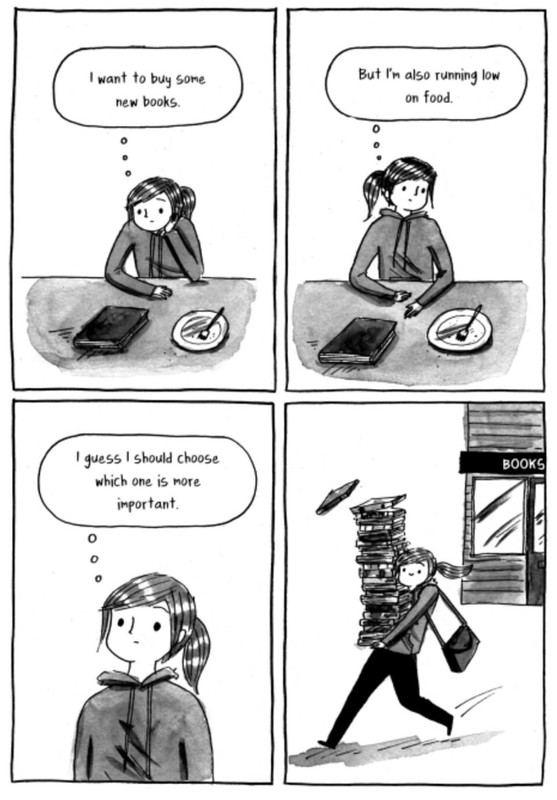 There was only one page I was glad I couldn't relate to – when you have to choose between books because you've reached the maximum amount you can have on loan at any one time from the library. Thankfully my wonderful librarians consider the loan limit a suggestion, not a strict rule, where I'm involved; just one more reason why my library is the best in the world!
I cannot get enough of this book and only wish it had been several hundred pages longer.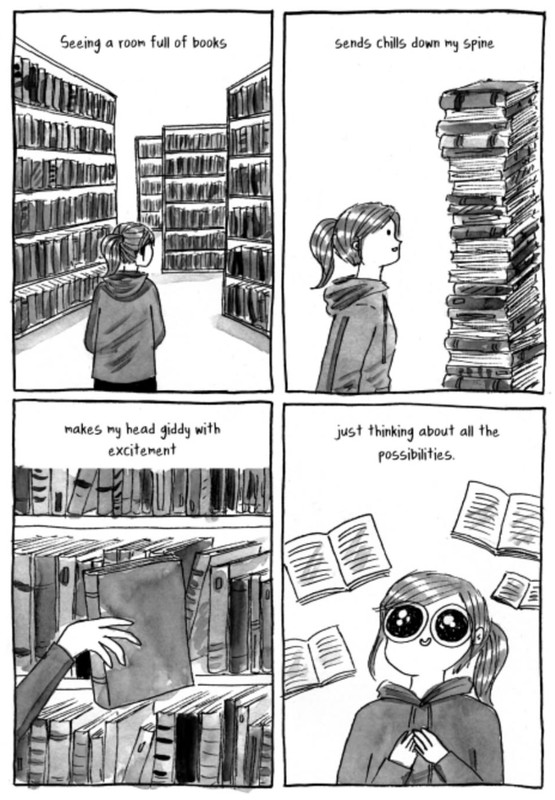 I wonder what part of my life Debbie is going to tackle next … Whatever it is, I need to read it immediately!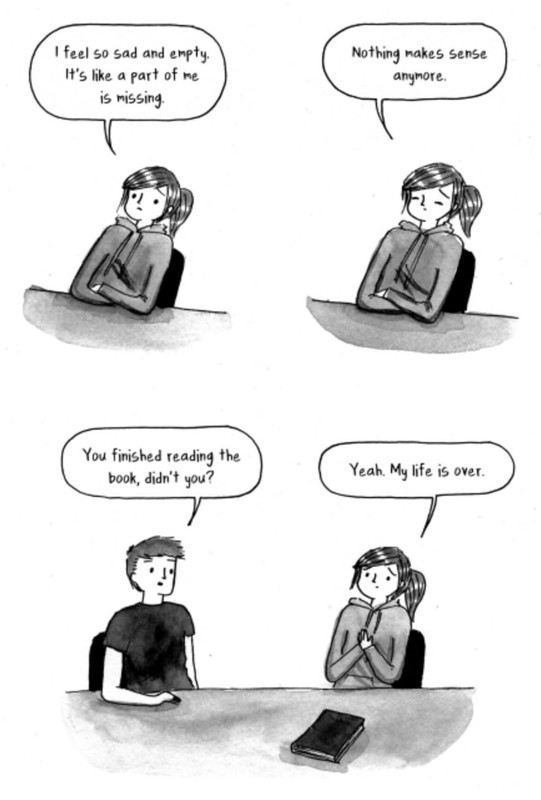 Thank you so much to NetGalley and Andrews McMeel Publishing for introducing me to Debbie with Quiet Girl and giving me the opportunity to remember why I need every book she ever publishes.
Once Upon a Blurb
Bookworms rejoice! These charming comics capture exactly what it feels like to be head-over-heels for hardcovers. And paperbacks! And ebooks! And bookstores! And libraries!
Book Love is a gift book of comics tailor-made for tea-sipping, spine-sniffing, book-hoarding bibliophiles. Debbie Tung's comics are humorous and instantly recognisable – making readers laugh while precisely conveying the thoughts and habits of book nerds. Book Love is the ideal gift to let a book lover know they're understood and appreciated.